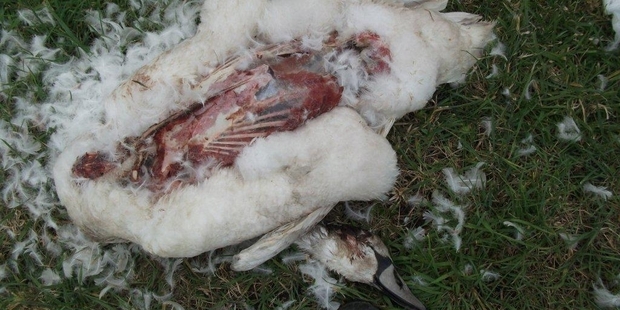 The carcass of a butchered swan has been found in Wanganui after the loss of two swans from Virginia Lake.
This follows the discovery of a shot swan on Tuesday and the poisoning of two others which survived.
The find has prompoted Wanganui District councillor Ray Stevens to double a reward of $200 for information leading to the prosecution of the offenders.
The feathered carcass was found in Tayforth Rd and Mr Stevens said it had obviously "been butchered to remove the breast meat".
"When there's a random shooting of a duck or other bird that's one thing but this is really getting down in the gutter."
He said the ill treatment of the birds is being done by two different people because anyone poisoning birds would not eat them. "There's two contrary things going on here."
Mr Stevens, who is chairman of the council's infrastructure and property committee, said security at Virginia Lake will be stepped up with checks of the area day and night as well as the regular patrols.
He said the council knows how many swans are at the lake because they are counted regularly, and two birds were missing from the wildlife reserve.
It was no coincidence it had happened during the school holidays, he said.
"These acts of violence against animals, this kind of antisocial behaviour steps up during school holidays.
"I don't know how that can be managed, but it's really marked."
Anyone with information about the killing of the swans, or the poisoning, can contact Mr Stevens on 345 2083/027 499 3181 leave a message on his facebook page or call Crimestoppers 0800 555 111.