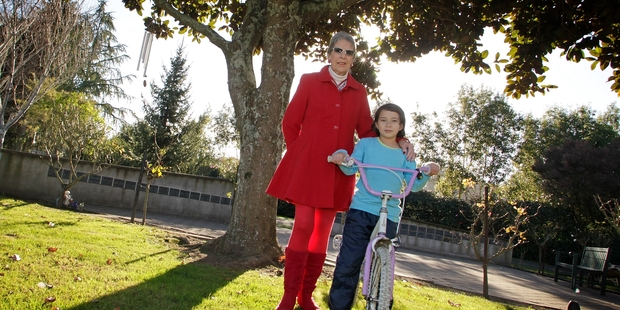 Trees disappearing from a Wanganui cemetery have upset a local nature lover.
Fiona Donne regularly walks through Aramoho Cemetery, where she enjoys the tree-lined pathways. When she learned a magnolia tree was scheduled for removal, she contacted Wanganui District Council staff to find out why.
The tree is planted near the memorial wall for stillborn babies and council staff told Mrs Donne the tree roots were spreading too close to the wall.
Earlier this year, other trees were also cut down at the cemetery and elsewhere.
"The council staff member I dealt with was very understanding," Mrs Donne said.
"She explained that the roots of the current tree have a 10 metre spread and they propose to replace it with another magnolia that is already 3m tall and has a smaller root spread.
They will also be placing an angel statue near the wall, which is really nice.
"Although I am not really very happy about a perfectly healthy tree being taken down, I think she was very fair, and there didn't seem to be any other option.
"I think she gave a very good explanation. As sad as I am, at least they are making an effort."
Mrs Donne has concerns about a number of trees being removed around town and wonders if some could be saved.
Council property manager Rowan McGregor says the parks team is responsible for more than 20,000 trees and prides itself on managing the tree stock to preserve the existing character of the district. The management regime regularly identifies and assesses the condition of trees. For more significant trees, a report is done on each tree before removal.
"The trees that Mrs Donne is referring to were Prunus in the cemetery, which had silverleaf and were not thriving at all, two small kowhai in Somme Parade that were dead , and a Prunus outside her property that was not a good specimen.
"We have ordered kowhai to fill a number of gaps along Somme Parade, including one outside Mrs Donne's property. The trees in the cemetery have been replaced with a species that is not susceptible to silverleaf.
"We generally remove and replant trees during winter. Where appropriate, we try to replant trees that are removed. We do need to recognise that trees have a finite life and our district has a number of older trees."