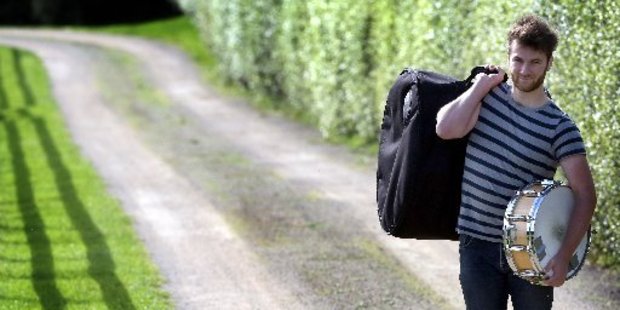 A Wanganui drummer is taking a step into the big time, having won more than $100,000 in scholarships to a top music college in the United States.
Ricky Simmonds, 23, will leave New Zealand in September to do a two-year diploma in professional music at the Berklee College of Music in Boston.
It's a journey that began when Mr Simmonds was a 10-year-old at Westmere School.
"I saw someone playing the drums, and I thought it was amazing. I asked my parents if I could learn the drums, and they agreed."
For the past five years Mr Simmonds has been studying at the New Zealand School of Music in Wellington, and news of his scholarships was a dream come true.
"I've been working towards this for the past five years. It's pretty exciting."
For the first year of his studies, Mr Simmonds will be attending classes and workshops at the college, but in his second year he will be interning as a session drummer for Warner Music.
To apply for the scholarships, Mr Simmonds had to submit a portfolio of his work, then travel to the United States for an audition and interview.
Between now and September, when he leaves for Boston, Mr Simmonds is working as a session drummer around New Zealand. He's spending time in the studio with singer-songwriter Phoebe Hurst on her upcoming EP, which is to be released in May.
He's also working to fundraise money for his time in the US.
"The scholarships are each worth about $60,000, but that's just to pay my fees. I have a lot of other things to cover to ensure my time in Boston is successful," he said.
Wanganui music lovers will get the chance to hear Mr Simmonds play when he performs with Phoebe Hurst at the Whanganui Musicians' Club on June 6.
His long-term goal is simply to devote his life to drumming.
"I want to travel the world, making a comfortable living from being a drummer. I love it. It's my life."
For more information on Ricky Simmonds, and to find out how to help him get to Boston, go to www.face book.com/rickysimmondsmusic.