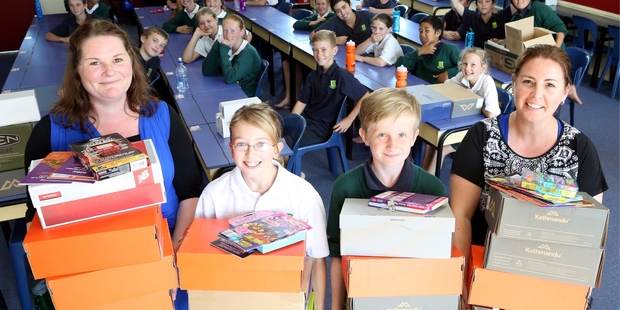 What started as "a bit of a whim" has turned into an organised campaign for the people of Christchurch.
Wanganui woman Nicky Howe was so moved by the plight of flood-ravaged Christchurch residents that she decided to start "send a little love" - care packages of treats for people.
In March, three years after being hit by the devastating earthquake, a once-in-a-century storm descended on Canterbury, forcing the evacuation of homes, causing slips and cutting power to thousands of people.
Ms Howe said she watched an episode of Campbell Live, in which affected residents showed journalists around their damaged homes.
"These people had just started getting their lives back together [after the earthquake], then they had these awful floods.
"I thought about how they must be feeling, then I thought about how they would feel if someone did something little to help them out," Ms Howe said.
She took to Facebook with her thoughts and people started making suggestions about how she could help.
She decided to send care packages full of treats such as Easter eggs, toys, candles and bed socks. "Organisations like the Red Cross are helping people with their basic needs, but I wanted to give people a treat."
Ms Howe works at the YMCA and let her Facebook friends know they could drop donations off at her workplaces.
Among those to respond on Facebook was her friend Selina Percy, who teaches room 11 at Wanganui Intermediate School.
"My class is learning about the concept of 'paying it forward', and I wanted the class to do one project around this theme every term. I thought this would make a good project."
Room 11 started a school-wide appeal for donations to fill the boxes. Ms Howe visited room 11 this week, and the students helped her fill about 20 care packages. The students also made cards to send with the packages, including many decorated in the Canterbury colours of red and black.
Now she faces the challenge of getting the 20 boxes to Christchurch, and is appealing to anyone who is travelling to Christchurch to volunteer to take a box to the YMCA Christchurch headquarters. Ms Howe can be contacted on 027 4617470.
Ms Howe wanted to thank everyone who had contributed to the project.