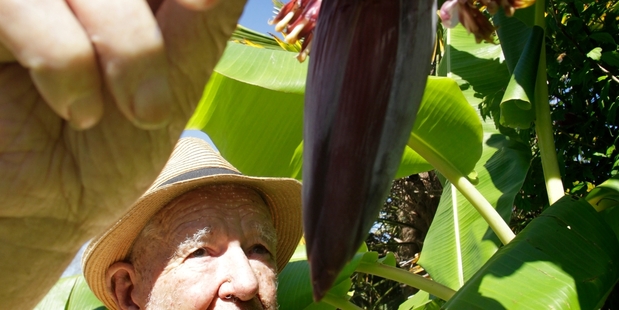 It's a great season for bananas this year in Aramoho.
Steve Clotworthy proudly showed the Wanganui Chronicle his fruiting banana tree when we visited his Aramoho home recently.
The tree, sporting several dozen green bananas, grows in the middle of Mr Clotworthy's back garden.
Mr Clotworthy said his daughter bought the tree for him in Auckland about 10 years ago.
"It fruited that first year, but this is only the second time since then. I think the hot weather we've had recently has encouraged it on."
He doesn't know how the fruit will take to ripen, but he thinks it might take about a month.
Mr Clotworthy said the fruit was not very long but quite thick, and was "very nice eating".
He's at a loss to explain why the banana tree grows so well in an environment that is usually too cold for the tropical tree. He knows of no-one else in Wanganui that has successfully grown bananas.
"All I do to look after it is cut it back at the end of summer, and then it grows up again. I lived in Fiji for a while, and I saw them do that to the trees there."
When the fruit are closer to ripening, Mr Clotworthy plans to either bag the bananas, or pick the fruit and ripen them fully in his greenhouse. He's not the only one who enjoys the bananas - there are bees buzzing around the tree constantly.