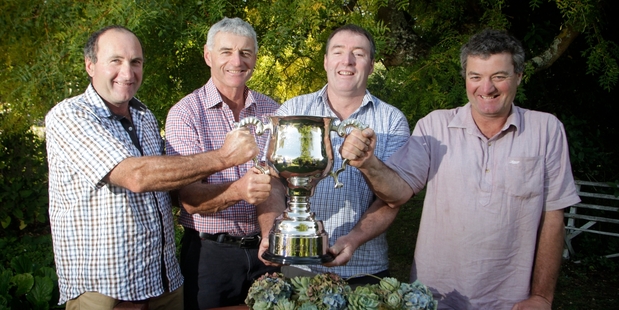 A Wanganui-owned horse may have a crack at the Melbourne Cup this year.
Who Shot Thebarman won the $100,000 Avondale Cup at Ellerslie on Saturday and if all goes well, the premiere Australasian horse race is in its owners' sights. Who Shot Thebarman is owned by Whangaehu and Marton brothers Shaun, Michael, Danny and Humphrey O'Leary.
Shaun O'Leary, of Whangaehu, said the horse will race in the Auckland Cup on March 5, and if it does well there, the Sydney Cup. And if it has success there, the Melbourne Cup is a possibility.
Who Shot Thebarman was bought unseen from a Dunedin stable. "We bought it over the phone. It was the third foal of a mare. If you look back, alot of champion horses are third foals."
The horse was bought by Shaun and Michael O'Leary and they gave a share each to Humphrey and Danny. It is the only horse all four brothers own together.
Shaun O'Leary said Whangaehu neighbours Mark and Raymond Connors had a horse of the same breeding that they were impressed by.
"We must have got the quicker one."
Shaun and Danny and their wives were on course at Ellerslie to watch the win. He predicts the Auckland Cup will be more popular. "We've got distant relations and friends already coming for that one."
The O'Leary family celebrated Saturday's win with "just one beer" before they had to catch a plane back to Wanganui.
The 5-year-old Who Shot Thebarman is trained at Awapuni by Mark Oulaghan and was ridden by on Saturday by Matt Cameron. He won by two-and-a- half lengths.
The New Zealand Herald report said "the training skills of Mark Oulaghan were to the fore at Ellerslie where he produced Who Shot Thebarman to demolish a competitive field of stayers in [Saturday's] Group two Avondale Cup.
"The Awapuni horseman brushed aside the disappointment of his last visit to Auckland with the 5-year-old when the gelding was a late scratching to celebrate a runaway win in the Go Racing Syndications-sponsored event.
"Who Shot Thebarman had been favourite for last month's Karaka Stayers' Cup when he escaped from under the front of the gates and careered off down the track. On his best behaviour this time, the southern-bred gelding gave rider Matt Cameron an easy time near the pace before he powered clear in his first appearance since he finished runner-up in the Group three Manawatu Cup in December. Who Shot Thebarman, who carries the colours of the O'Leary brothers' dashing Waikato and Manawatu Steeples winner Rioch, is now set for the group one Barfoot & Thompson Auckland Cup on March 5."
And the name - it's reported that when the drinks are slow, the shout goes up "who shot the barman?" And you can only have 18 characters in a racehorse's name, said Shaun.