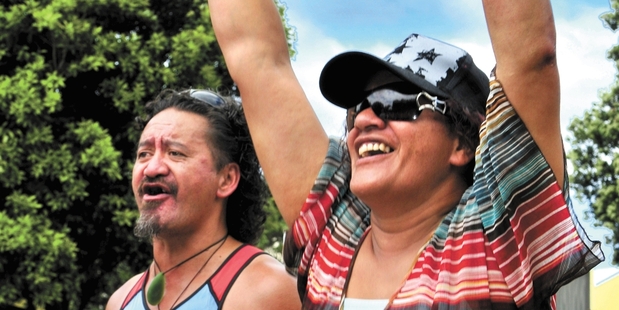 Wanganui people can either stay in their town or head to Patea on Thursday - New Zealand's national day.
Reggae band Tomorrow People will be the star attraction at Patea's Paepae in the Park.
Patea's Waitangi Day celebration is the town's biggest event and is in its 11th year. About 4000 people are expected, organising group treasurer Elaine Powell said.
The day begins at Memorial Park at 9am, with a powhiri. The speakers will include South Taranaki mayor Ross Dunlop.
After those serious words, the entertainment begins. There will be performances by the renowned Patea Maori Club and by other local musicians, and a demonstration of taekwando, a Korean martial art.
"We just want everybody to come and have a good time," Mrs Powell said.
This year there will also be about 30 food stalls and 16 craft stalls - with barely room enough to put them all.
"We've got a lot from Wanganui this year. There's no Bushy Park event so they all want to come to Patea and we are squeezing them in."
The day ends just after 5pm, and is organised by a group.
Mrs Powell said it was hard work getting the $33,000 needed to hold it this year. Some of the money came from the Lotteries Commission, and some from South Taranaki District Council. The group is already thinking about how to raise money for the 2015 celebration.
In Wanganui it's a slightly different story. Maori development organisation Nga Tai o Te Awa is holding its usual celebration at Pakaitore/Moutoa Gardens. Last year the Ministry for Culture and Heritage contributed $3000 toward that. This year it is not giving any funding.
Co-ordinator Jay Rerekura said the Pakaitore Trust was putting up the money instead.
The day will begin with karakia beside the Wanganui River, opposite the gardens, at 6am. The celebration then runs from 10am to 3pm, with local musical talent and Mr Rerekura and Paerangi Kingi as emcees.
There will also be food and craft stalls, and games and bouncy castles to keep the children happy.
Missing out on ministry funding has had a positive spin-off, Mr Rerekura said.
"We've gotten together with some staff from the (Wanganui District) council, and we're working to put together an iwi/council group for next year."
That group will include some of the organisers of Whanganui's successful opera week and vintage weekend. It will work toward an event that will have a more educational slant and attract more non-Maori.