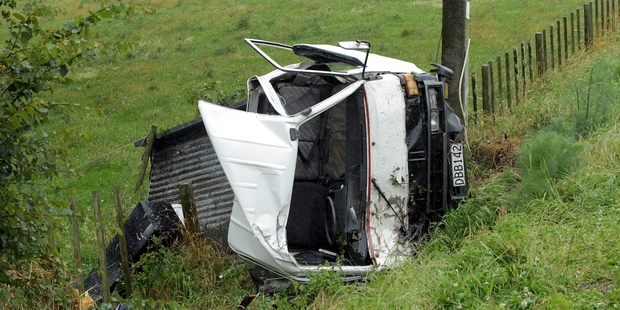 Three men were hospitalised after a Toyota flatbed truck travelling to Wanganui ended up on the west side of State Highway 4 just past Western Line at 2.15pm yesterday.
The truck left the road in wet conditions and hit a power pole.
Two St John ambulances attended and the truck's three occupants, one man in his 30s and two men in their 40s, were taken to Wanganui Hospital. The on-call duty manager at the emergency department said all three had minor injuries and were to be discharged last night.
Two Fire Service trucks also attended. Traffic was diverted at Blueskin Rd, Westmere, before the highway was reopened just before 3pm.
Constable Robert Parsons said the three men were returning from work in Patea.
In another rural accident, a tanker taking milk to the Open Country factory in Wanganui rolled off SH4 and into a ditch near Aberfeldy around 10pm on Monday.
The driver was uninjured. Two Wanganui fire appliances, police and ambulance attended.
Horizons Regional Council was also called, and when its duty emergency manager arrived at midnight, bunds had been placed to stop a small leak of milk and diesel flowing into the Mangawhero River, Horizons' Adam Duker said. The tanker was carrying 600 litres of diesel and 27,000 litres of milk.
"It's extremely important milk doesn't get into waterways, as it has a high biochemical oxygen demand. When it gets into the environment, especially water, it strips away the oxygen and fish can't breathe," Mr Duker said.
Whanganui Fire Service's Jemal Weston said the tanker was likely to be put back on the road by a crane. Open Country staff members were unwilling to comment.