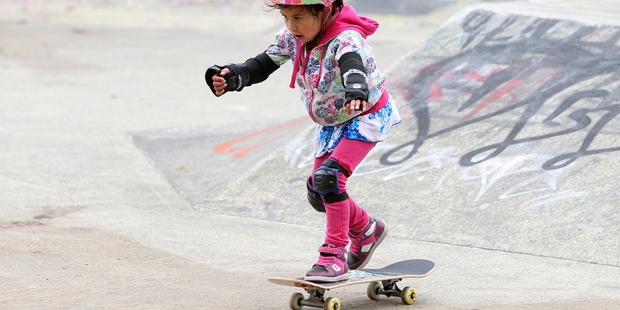 While Wanganui kids are having a blast these school holidays, the increased free time will likely see a spike in nasty accidents.
Last year 3354 ACC injury claims were lodged for Wanganui kids aged 0-14, costing taxpayers $773,578. This was down from 3411 the previous year at $794,088.
Nationwide 334,141 child injury claims were lodged during 2012 at a total cost of $63,901,699. Boys were the most accident-prone with 188,529 claims, compared to girls with 145,612 claims.
Wanganui Hospital emergency department head Athol Steward said staff saw an increase in children's injuries during holiday periods especially when the weather warmed up.
"At the moment it's skateboards and scooters and trampolines. We've seen a few nasty scooter injuries, [and] falling out of trees and breaking limbs."
Scooters had grown in popularity recently, he said. "You can get going quite fast on a scooter, so when you do come a cropper you do some nasty damage."
One child had come in with a fractured sternum after his chin collided with his chest while he tried a backflip on a trampoline. He recovered with pain relief and rest.
Dr Steward recommended parents made sure their children wore helmets on bikes and other wheeled equipment, and always wore seatbelts in the car.
"We've got to accept that kids are active and they will fall and injure themselves from time to time."
The majority of ACC child injury claims nationwide were for minor injuries. Soft tissue injuries, such as bruises, strains and sprains, led to around 152,600 claims, while lacerations, puncture wounds and stings resulted in around 98,100 claims. The next most common injury category was fractures and dislocations. Other injuries included dental injuries, burns, "foreign bodies" in eyes, and concussion.
ACC's Insurance and Prevention Services general manager John Beaglehole said many minor injuries happened during everyday, healthy play, so were simply part of childhood.
"But at the same time, there are things you can do to help prevent injuries."
How parents went about this would depend on their child's age, he said.
"With preschoolers, it's basically up to parents and caregivers to manage their risks, by checking their environment and through good supervision. As kids get older, you still need to set boundaries, but it's also about helping them start to learn to manage risk sensibly themselves. That means talking to them about risks and being a good role model."