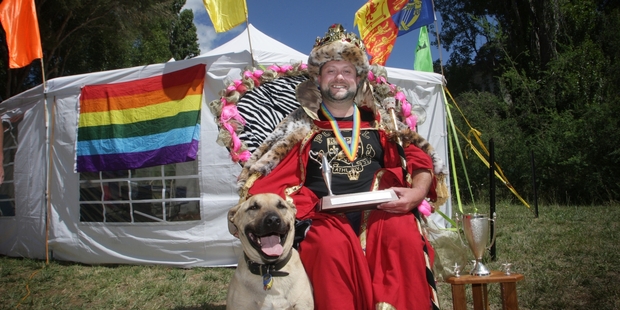 Queen Nurse Gladys had to hand over his crown on New Year's Eve ... and he didn't really want to do that.
The Queen - also known as Ms Vinegar Hill and, more prosaically, plain Andrew Morgan - was crowned on the stroke of midnight last year at the Vinegar Hill campground on the Rangitikei River, near Hunterville.
He was nominated by gay and lesbian campers, and chosen by a council of former queens.
On New Year's Eve, another council of queens chose a new queen to be crowned - again at midnight.
The queen can be male or female. He or she is nominated for providing services to the camp, and the formal coronation is a tradition of the annual gay and lesbian camp that began in 1986.
A major programme of festivities was planned for New Year's Eve with a bonfire to be lit at 9.30pm followed by music, dance, drag shows and the presentation of this year's awards. They included one for the best campsite, one for the best use of technology and the Miss Hospitality award "for the most popular people around the camp in the wee small hours".
Mr Morgan has been going to the camp for nine years, and has been nominated for queen many times. He said he had always wanted the title, but had never realised how responsible it was. Before the big party he had a visit from Feilding police, checking on how the night's events would be managed.
He told them a woman had to be rescued from the river the previous night at 11am. Mr Morgan, a paramedic and one of those responsible for the camp's medical centre, said he would have felt terrible if she had drowned.
The role was also a lot of fun, he said. When the Wanganui Chronicle arrived he was in council and his security guard wouldn't allow him to be disturbed, while his "minions" were ready to spring to attention. "I've got an amazing team of people around me to support me. It took a few days to get used to it ... I'm used to it now," he said. On Tuesday night there were an estimated 500 people there, with more arriving.
As well as a selection of official (royal) and unofficial parties to amuse them, the Aids Foundation has provided campers with about 20 inflatable tyres. They, and people from the other end of the campground, were collecting them from a depot, walking across State Highway 54 to the Higgins quarry and then leaping in the river and drifting back down to the depot. It's a trip of 30 to 45 minutes in a clear green river, with patches of fast and slow current.
Gay and lesbian campers mingled easily with others at the popular camping spot, and Mr Morgan said local people were supportive. Showers were available for $5 at the Hunterville Rugby Club, there were food stalls and a farmer provided wood for the bonfire every year.
Tisha Klein and her husband are friends of two former campground queens, and have joined the camp every year for four years. "We absolutely love it. It's safe, it's fun and everybody's friendly," she said.