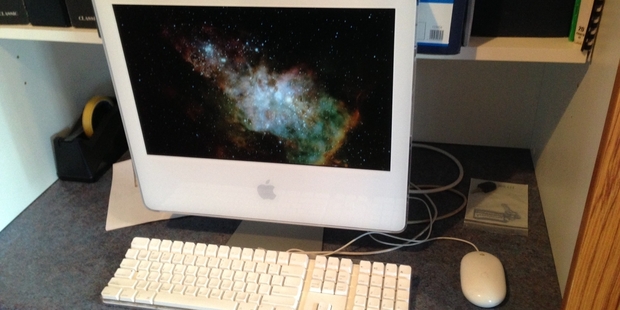 Marton police are keen to locate four silver iMac computers similar to the one pictured, stolen from St Matthews School over November 27 and 28.
Constable Richard Gower said he would like those responsible for the thefts to return the computers to the school or to the Marton police.
"The children of St Matthews are missing the computers for their work and the school will be hugely out of pocket attempting to replace them.
"While no burglary is ever acceptable, schools and churches are definitely a no-go zone. A school is an essential part of any community and who ever did this should know better," Mr Gower said. "These individuals are a blight on society and I hope feel enough guilt to hand these items back."
At Marton School between November 15-17, a number of newly-planted trees on the Hereford St grounds were destroyed by vandals.
On November 26 a large television was taken in a burglary of a French St house.
Two vehicles were broken into; at Kensington Rd on November 17, and at Russell St over November 22-23.
On November 25 a Honda vehicle was stolen from Hair St and located off Mill St in a damaged condition.
Mr Gower commented that the Marton Market Day on November 23 was well attended, with no problems reported by the attending officers, except for some who suffered sunburn.
During Market Day a van owned by a local school parked on Stewart St was damaged.
Mr Gower said it appears to have been hit by another vehicle, and he's asking for the driver who was responsible to come forward to put it right for the school.
No drink drivers were processed in Marton in the last two weeks of November. However, a single vehicle accident was reported last week, when a people mover rolled on SH3 near Marton but the sole occupant escaped injury.
Some incidents attended by the Marton, and Hunterville Police over the past two weeks. Four domestic incidents, one burglary, one suspicious behaviour, one interfering with a motor vehicle, one theft, one unlawfully taking a vehicle, two missing persons, one vehicle crash and two mental health assists.
Two 20-year old Marton males were arrested for shoplifting and three Masterton males were arrested for drug offending.
If you have any information you can call in confidence to the Marton police, 06 3276555, Hunterville police, 06 3219111 or Bulls police, 06 3222020.