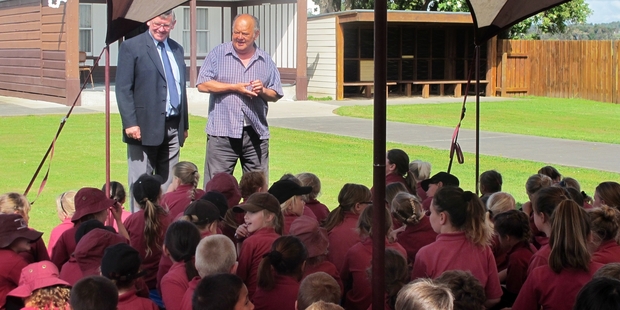 Hunterville school is the epitome of a small-town country school with huge community support.
And this week the children enjoyed a day at Rata Marae about seven kilometres south, where the marae committee, parents and the school made it a red letter day for the 188 pupils.
Clear skies and sunshine heralded the arrival of the children, parents and teachers on to the marae for the powhiri.
Kaumatua Paddy Potaka, a former teacher at the school, told the pupils they were in for a special day with 16 activities throughout the grounds ready for everyone to enjoy.
There was a loud buzz of excitement and laughing as the children sorted into 16 groups and filed off to their activity, which included stick games, tukutuku art, stone painting, flaxwork, waiata, story-telling, kowhaiwhai art, koru pattern art and - a big hit - learning to make fried bread in the marae kitchen.
Tutor Erina Metekingi measured out the flour, baking powder and warm water into two large bowls with each child having a stir of the stiff dough.
Then it was turned out on a floured bench and everyone helped knead it and slice it into scone-size pieces. Mrs Metekingi took over the cooking and dropped the "breads" into a hot vat of oil.
There was great excitement as the kids lined up for the taste test - a bread slathered with butter, golden syrup or jam by two of the big boys.
The golden, bubbly, crisp-fried bread went down a treat.
"Sooo beautiful," said one small girl.
"Yeah - it's the best, eh?" a senior boy said.
Sitting in circles under awnings, the flax-weaving kids made flax fish, while the stone painting groups concentrated on their river stones, carefully putting on Maori designs.
At the waiata group, each child was given a bright-coloured ukelele to accompany themselves as they sang one of their favourites, Rangitikei Awa.
The hangi for lunch - chicken, beef and pork with all the veg followed by steam pudding with custard and cream - was provided by the whole community.
Principal Stephen Lewis said it was a marvellous day out which had run like clockwork because there was so much help.
"We're very fortunate, we really are - our children have a great day out and so do we."