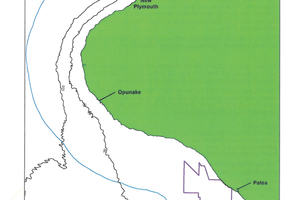 An oil company planning to drill off the Patea coast in early 2015 is upbeat about the economic spin-offs for the Wanganui region.
NZ Oil and Gas is currently looking for a suitable offshore drilling rig to start exploratory work in the Kaheru prospect, about 12km off the Patea River mouth in 20 metres of water.
Andrew Knight, the company's chief executive officer, told the Chronicle that Wanganui could play a significant role in the project.
"There may be a role for Wanganui's port in terms of a base for support vessels because, while New Plymouth is a major player in this industry, it's a long way from where we're going to be drilling," Mr Knight said.
"There will be some support from New Plymouth but only because of the size of the vessels involved. But there are different roles for different people."
He said the other major spinoff was direct employment if drilling showed up oil or gas reserves.
"In terms of employment opportunities, then it's pretty significant once we get to the development phase," he said.
"Depending on what we find, existing onshore production facilities [west of Hawera] would have to be redeveloped, so there will be jobs. And we know that there are a good number of Wanganui people already doing work in this industry, yet living in your city."
He said if more development down this part of the coast did occur then "you would certainly start to think Wanganui will be more involved".
Mr Knight said the exciting thing about oil exploration was that any significant discovery had a definite spin-off for the region. The availability of a drilling rig and the weather would determine the pace of the drilling programme.
He said with the drilling programme over a year away, the company's intent was to get the message out about its plans for the Kaheru field, a programme that will cost up to $66 million.
NZ Oil and Gas has interests in eight exploration permits around New Zealand and 10,000sq km of those are in offshore Taranaki, the country's only oil and gas producing basin. Currently it has two producing wells, Kupe and Tui.
The planned well, called Kaheru-1, will be drilled at the southern end of the Taranaki Fault, which has already thrown up a number of oil and gas discoveries in eastern Taranaki.
Mr Knight and general manager of operations and engineering Andrew Jefferies were in Wanganui as part of a trip contacting parties they think will be interested in what the company is planning.
So far they have met the Taranaki Regional Council, Patea Boating Club and the Department of Conservation, and yesterday they met Wanganui District Council officers at the city's port.
"We're meeting those parties to solicit their views and make sure we're addressing their concerns."
Mr Knight acknowledged this was being done because of growing public concern around offshore drilling and the problems that can sometimes occur.
"It's always going to be an emotional discussion, so that's why we're out there putting some scientific parameters around what we're doing."
Mr Jefferies said the seismic indicators were positive and drilling would target two areas of sandstone beneath the sea floor. He said mapping on the area estimated what they thought could be found in Kaheru.
"To be economic it would need to produce in the tens of millions of barrels of oil and Kaheru is well over that," he said. If oil and gas was discovered, he said, a small offshore platform would be put over the well-head, with output tied back to production sites that were land-based, such as the plant near Hawera.
NZ Oil and Gas reckons it would know within 30-50 days of drilling starting what sort of potential the field could yield.
"We're not after a dry hole which we would have to plug and abandon," Mr Jefferies said. But he said none of the drilling programme involved bringing hydrocarbon samples directly to the surface. Testing will be done below the seabed itself.