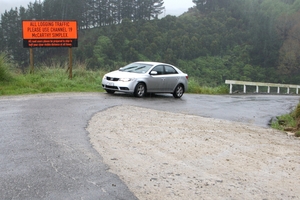 Some readers share Ian Harrex's view that road damage from logging has been overstated - while others say it's a lot of rubbish.
A Wanganui District Council study estimated it will cost the district an extra $20 million over the next 30 years to repair damage done by logging trucks to rural roads. Forester and developer Ian Harrex has questioned that figure. In the October 12 Chronicle he used Tokomaru East and West roads as a benchmark, and said the figure would be closer to $5.4 million, or $8 million at most.
Those roads were in "brilliant" condition now and that was partly down to work done to prepare them for logging traffic, he said.
The Chronicle talked to three people who drove Tokomaru West Rd regularly.
One, who did not want to be named, said it was far from "brilliant".
"A few other people I was talking to over the weekend said that was a lot of rubbish.
"I think most neighbours will agree with me.
"Maybe Mr Harrex should come and drive it with us and see what we deal with."
The first five kilometres of tarseal after the Brunswick Rd junction were the worst, he said.
In the first 4km there are 16 places where the seal has worn away, to be replaced by patches of shellrock, some with potholes.
Residents understand the seal will not be replaced until logging on that section has finished - about three years away.
It's a narrow road, and there are lots of places where two trucks cannot pass each other.
"I have nothing against logging but people need to realise the effects on marginal roads," the man said.
Mailman Bruce Murphy and long-time resident Di McIntosh were more upbeat.
Mr Murphy said the road had improved in the 35 years he's been driving it, and the damage to the tarseal would have happened even without the logging trucks.
He said parts were not in great order, but there were only 12 residents and not much traffic.
"We don't live in a society where we can afford to spend all this jolly money. I wonder what people do expect."
Mrs McIntosh said the road was better overall than it had been, though the tarseal section closer to town had some bad patches. She thought Mr Harrex summed up the situation well.
Six to eight loads of logs travel the road every day.
Residents and the mailman have been given radios to keep in their vehicles. They use those to check where logging trucks are, and truck drivers will stop and wait at good passing places to let them through.
Nobody had any fault to find with the truck drivers themselves. "McCarthys, I find, are very courteous," Mr Murphy said.
"I think the logging trucks always get a bad rap but they're very good citizens. I can't speak highly enough of them."