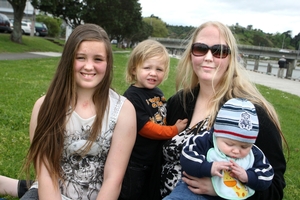 A Wanganui teacher aide has been denied paid parental leave because she had not been employed for long enough, even though she was at the same school for six years.
Morgan Holly, a teacher aide at Tawhero School for more than five years, was employed by Arahunga Special School, which had a satellite class there.
In January this year Tawhero took over as her employer and she continued to do the same work, in the same place, as before.
About April Ms Holly found she was pregnant. She applied for paid parental leave and, after filling out the requisite form, set about preparing for her baby's arrival.
But unbeknownst to Ms Holly she wasn't eligible for the leave because she hadn't been working for the same employer for at least 10 hours per week over the previous six months - a requirement of law - even though she was at the same site.
She rang Inland Revenue to ask whether the recent change would affect her eligibility and was told she would be fine, though she admitted the person on the other end "didn't really sound like he knew".
Then she received a letter saying her case had been passed to the Ministry of Business, Innovation and Employment for it to decide whether she should be paid. After ministry staff said she was ineligible for paid parental leave she was left with one final option, the Employment Relations Authority, which also found against her.
In his report, ERA member Greg Wood said Ms Holly challenged the decision because she was paid by the Ministry of Education throughout and continued doing the same job, and so should not be disadvantaged by the change of employer. "While Ms Holly continued doing the same job, legally she was employed by a new employer at the beginning of 2013 and technically does not meet the requirements for paid parental leave," Mr Wood said.
He accepted the Crown was the ultimate funder of schools and funded Ms Holly's work, which did not change throughout her employment.
Ms Holly said: "That was my last try, but I'm back into work in a couple of weeks."
She said the staff at Tawhero School had been very supportive and principal Chris Dibben even arranged for her ERA application to be paid for.
She and the kids - including newborn Jaxon, now aged 4 months - coped fine and she wasn't upset about what had happened. "It was just bad timing, I suppose."