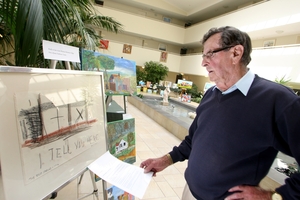 Residents of Jane Winstone retirement home didn't have to step outside their door to view the latest exhibition from the Wanganui Arts Society - the art came to them.
At the invitation of the retirement home, the arts society held an exhibition of its members' work in the Jane Winstone atrium on Sunday.
Jane Winstone's sales adviser, Jane O'Connell, said a point of interest was a loan from an anonymous art collector of a Colin McCahon work.
"This person offered the McCahon as a point of interest for the exhibition. He bought it originally for $400 and it's now worth $30,000," Ms O'Connell said.
She said the exhibition had been held for several years, and had been a big success.
"We do this to let the public come in an enjoy this beautiful local art."
Ms O'Connell said there were two "artists in residence" - Elva Abbott and David Penwarden - who live at Jane Winstone and are members of the arts society.
Jane Winstone's residents certainly appreciated the exhibition. Elwyn Wills said she was "amazed" by the artist talent in Wanganui. "It makes me feels quite envious," she said.
Graeme Morpeth said he had had a good look around the art works and had really enjoyed it: "It's fantastic to have it here."
Rob Davies, gallery manager at the arts society, said the atrium was the perfect spot to hold an exhibition, with its natural light and beautiful setting.
He said the exhibition had been put together very quickly.
"Most of it is recent work, but some of it is older," said Mr Davies who also sketched people's portraits in pastel during the day.