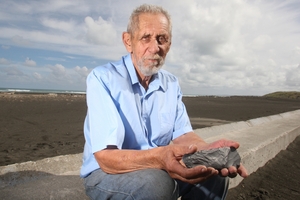 While northerners fume about tighter rules for their snapper fishery Wanganui resident and long-time fisherman Potonga Neilsen wants an end to all commercial fishing.
Primary Industries Minister Nathan Guy last week changed the recreational fishing rules for the northern North Island. Recreational fishers can now catch two fewer snapper a day - down from nine to seven - and each has to be at least 30cm long.
The idea is to protect dwindling snapper numbers, and fishers are angry that commercial fishers catching undersized snapper now throw the dead fish overboard rather than taking them to shore and facing being fined.
Mr Neilson has seen that happen when there were commercial trawlers working the Wanganui coast.
"We used to follow them in and pick up the dead fish," he said.
Wanganui is in the Central North Island Region when it comes to fishing rules. Recreational fishers can catch 10 snapper a day, and they have to be 27cm long.
City fishing guru Grant Clark said getting them would be a real struggle for anyone using a rod at the beach, and easier if they had a Kontiki to take the line further offshore. People with boats able to speed out to sea for two hours would get them easily.
That's no comfort to Mr Neilson. He is depressed at the state of Wanganui's fishery. At nine years old he could wade around with a spear at Castlecliff Beach and come home with a feed of flounder for the family. In the mid-1800s the Reverend Richard Taylor saw so many fish in the Whanganui River he could almost walk across on their backs.
The quota system was wrecking fishing in New Zealand, as it had done everywhere else, he said.
It relies on calculating how many fish are available, and how many can be caught without affecting numbers long term.
In 1992 Maori were given 10 per cent of all the country's fish as their quota in the "Sealord deal".
Mr Neilson represented Nga Rauru at the talks. His elders had told him not to agree to the deal, and to keep their customary rights.
The deal was pushed through and Nga Rauru was overruled.
His tribe joined with four others, and has sold its quota to commercial fishers ever since, bringing in $8000 a year to each of Nga Rauru's 12 hapu (subtribes).
While they receive the money Mr Neilson is watching "the rape and pillage" of Tangaroa (the sea).
"When the fisheries collapse we will have nothing."
He says his tribe should give up their quota, if only to make a stand, and go back to relying on customary rights.
And his answer for the country as a whole would be to cease commercial fishing altogether. He said there was more money to be made showing tourists abundant fish life - a novelty for them.
"It's like the Whalewatch. You don't have to kill them. You can make a fortune just looking at them."
There would also be opportunities for fishing charter businesses taking tourists out with rods and reels. "It gives the fish a chance, not like a trawl net or a gill net. They're very indiscriminate."