Manawatu Guardian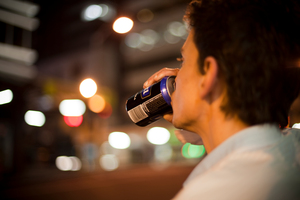 A Manawatu liquor outlet manager says he has seen little change in the younger generation's drinking behaviour, despite RTDs' alcohol content being lowered to seven per cent.
The restriction is part of a Voluntary Industry Code (VIC) established by the Distilled Spirits Association, which has seen major liquor brands disestablish high percentage pre-mixed drinks.
Palmerston North Liquorland manager Josh Davis said the supply of the drinks ceased last month but little had changed with consumers.
"The supply of these high percentage RTDs has already stopped and I don't think many people realised what was happening," he said.
"Many seem to look for an alternative product that will still offer them a high alcohol content and value for money."
Those who were usually bourbon drinkers were now switching to beer, cider or other RTDs to make up the percentage, he added.
RTDs make up approximately 12 per cent of the total liquor market in New Zealand.
The majority of consumers are 14-24 years old and frequently mix their products with energy drinks.
A Massey University study released last year found the number of young girls who drank at least eight drinks in a sitting had almost doubled since 2004. The increase was attributed to the introduction of RTDs, which have been criticised for targeting younger patrons with their colourful labelling and sweet taste.
"The new rules don't take too much away from the younger patrons; a 7 per cent can still holds around two standard drinks so for them it's more about the price," said Mr Davis.
The VIC also asks members of the DSA not to produce RTDs containing energy supplements higher than 145mg/L, ensure the number of standard drinks is clearly labelled and advertise only where 75 per cent of the audience is above the legal purchasing age.
The intention of the code is that the restricted RTDs will no longer be supplied into the retail network by the end of this month.