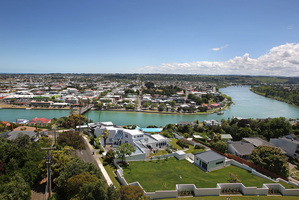 Wanganui homeowners are reluctant to put their houses on the market as property prices dip, a local real estate agent says.
Latest Real Estate Institute of New Zealand (REINZ) figures show the median house price in Wanganui tumbled $23,000 to $167,000 last month.
The price had also dipped compared with the $175,000 median in August last year.
Forty-one houses sold in Wanganui last month, 10 fewer than the same period last year.
Wanganui LJ Hooker real estate agent Steven Ellis said the median Wanganui house price had dropped thanks to increased sales of more basic properties.
"At the moment, you've got potentially a lot of lower-priced houses selling, with people trying to get in before the 20 per cent minimum deposit comes in on October 1."
There had been more sales this year than last but those sales had not been replaced by new market listings.
However, the low number of listings over winter was already starting to pick up as spring arrived.
"A lot of people have been taking their properties off the market because they can't get the prices that they're after, so they're probably going to put them back on when there are better times."
National house prices continue to rise as pending limits on low equity home loans put pressure on the market. But the number of houses being sold appears to be slowing.
According to latest REINZ figures, the national median sale price rose $5000 to $390,000 in August, up 5.5 per cent from the same month in 2012.
"Agents report across the country that potential sellers are taking a 'wait and see' attitude in terms of rising prices and what effect the Reserve Bank's new lending policy will have on the market," REINZ chief executive Helen O'Sullivan said.
"This uncertainty in the short term is exacerbating the problem of supply, although there should be a traditional lift in properties for sale as spring takes hold."
The number of houses sold last month fell 3.4 per cent from July but was up 8.5 per cent from August 2012.
Last month, Reserve Bank governor Graeme Wheeler announced restrictions on high loan-to-value ratio mortgage lending - essentially loans with deposits of under a fifth of a property's value. The restrictions come into effect next month. And last week, he signalled that interest rates would start to rise next year.
The central bank aims to take the sting out of a heated property market that it fears threatens the nation's financial stability.
"The Reserve Bank does not want to see financial or price stability compromised by continued high house price inflation," Mr Wheeler said.
Soaring prices in Auckland and Christchurch have underpinned the national growth in house prices, fuelled by a lack of supply and increasing demand.