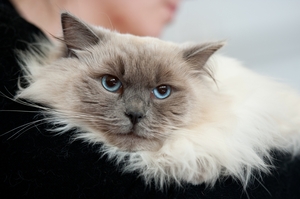 Pet owners in the Rangitikei may need to keep fewer felines as support mounts for a cat cap in the district.
Eleven verbal and written submissions were received by the Rangitikei District Council about the draft animal control bylaw, which among other objectives proposes to limit the number of cats owned by any person to three.
Most of the submissions were in favour of the cat cap.
Angus Gordon, who made a submission on behalf of the Taihape Community Board, said if problems arose from the keeping of cats it would be the manner in which they were kept and not necessarily the number of animals.
One person telephoned the council to say the three-cat policy was a good one and hoped it would be carried over to the dog control policy. Another said the proposed bylaw should require cats to be registered and microchipped or tagged, as with dogs.
Mrs L Pearson went even further with her submission to the proposal.
"Cats should be contained on the property of the owner -whether it be by cat-proof fence surrounding the owner's property or a fenced run plus housing on owner's lawn for cats kept inside.
"They foul gardens, invade other people's property and homes, and kill birds in cages or aviaries," Mrs Pearson said.
In her submission, she pleaded with the council to be "courageous and set an example for other councils" and pass the bylaw.
Taihape woman Linda Stubbing wrote that while she agreed in principle with the concept of animals being contained to an owner's property it was "a bit difficult" in regard to cats.
"But dogs roam in Taihape and defecate on my lawn and frighten my cats, and people keep more than three dogs on their properties.
"If you can't police the dog bylaw, how do you think you can impose this 'other' animal bylaw?"
She also agreed with the three-cat cap but not if it meant those who currently owned more than three cats had to have their pets put down.
"You need to make provision to help these owners who want pets but can't afford to pay the vet bills. Otherwise, I fear there will be a lot of animal cruelty as a result."
Dr Peter Oliver submitted the council had "not one shred of credible evidence" that having more than three cats caused any more, or less, of a nuisance than three or fewer.
"Even one or two cats can cause a considerable nuisance to neighbours, and the council enforcement officers should have discretionary powers to deal with the situation.
"The situation with the number of cats is similar to the situation with the number of children in a home, inasmuch as even one or two children can cause a nuisance to neighbours, while five or six 'well brought up' children can be a delight and an asset to the community."
The draft bylaw will come before the council on October 3.