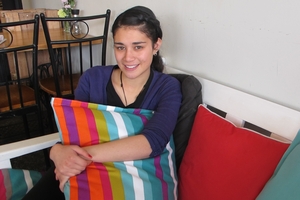 Jasmine Ruru taught herself to dance and recently wowed Taihape with her Michael Jackson routine, winning Taihape's Got Talent.
Jasmine, who works at Taihape's Soul Food cafe, is also playing a major role which will be her acting debut, in the Taihape Drama Society's production of the musical Bad Girls.
The musical is based on the successful British TV drama series of the same name and opens at the Taihape Town Hall on Thursday, September 19.
The 18-year-old still can't quite believe she was talked into auditioning for the show.
"I've always danced but I've never acted and I am not a great singer. I don't have to sing solo, thank goodness. I am loving being in the show. I really enjoy being part of the group, it's like being part of a family and acting is so interesting."
Just weeks after the show closes, Jasmine will be taking her Michael Jackson moonwalking spectacular - with some extra tweaks - into Rangitikei's Got Talent.
"It's exciting right now. I have a job I love, I'm in the show, and now I've won the talent competition as well and I hope I can go further."
Taihape is such a friendly, nice place to live.
"I suppose one day my partner and I will need to leave here to take our lives further but not just yet. We're still quite young."
From the age of six, Jasmine used to dance, copying moves from television shows as well as creating new moves.
"It's just something that has always felt right for me."
Her winning dance was choreographed by her, set to three songs of her hero Jackson's music, including his huge hit Bad.
"All through school I wasn't good at sport but dance just came naturally. I never went to a dance school but I joined a community dance group for a while."
She has lived in Taihape since she was high school age when the family had moved north from Burnham Army camp in Christchurch to Waiouru Army Base.
"My dad now works for the army in Wellington. But I wanted to stay here."
Though she lives in a small town, Jasmine has been amazed by the number of strangers who recognise her in the street as the winner who danced as Michael Jackson.
"It's amazing, people just come up to me."
Taihape's Got Talent had 10 contestants. The winners of the under 18 years was dance duo Phoebe Howard and Sophie McCarthy, both students at St Joseph's. The dance duo will go forward with Jasmine to Rangitikei's Got Talent on October 19 and compete against the winners of Marton's Got Talent and Bulls Got Talent.