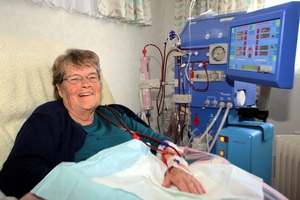 Wanganui kidney patients are not asking for a lot but they cannot understand why their calls for help are being ignored by health authorities.
Sue Flintoff, president of the Wanganui Kidney Club and herself a kidney patient, said having a respite renal nurse at Wanganui Hospital would be a start "but they keep saying they can't afford it".
Mrs Flintoff's comments follow news that a two-year investigation into renal health across both Whanganui and MidCentral district health boards recommends no change to existing services.
The report, discussed at yesterday's WDHB community and public health advisory committee meeting and discussed at MidCentral earlier this week, looked at three options - increasing home support, creating a dialysis unit in Wanganui or no change - and recommended no change.
But Mrs Flintoff said that outcome would not sit easily with renal patients in Wanganui.
While she now gets dialysis treatment in her Springvale home, she was one of those who used to travel to Palmerston North Hospital for treatment, in her case three times a week.
"I'd like to see some of the board members get on that shuttle and experience the trip," she said.
"We'd leave here about 11am in the morning and not get home until 10pm, and all that for about four or five hours of dialysis treatment.
"If you come from Wanganui you're last in the queue. That's the way it's always been."
Mrs Flintoff said local patients would be happy if the local hospital could provide a respite renal nurse who they could rely on if needed.
"If there's a storm and bridges go out or there's a power cut, what happens to us? There's no back-up and we can't go to Wanganui Hospital because they say there's no renal nurses there. But we know differently. We know there are nurses qualified who could do it."
She relies on her husband, George, to put the necessary needles in her arm to hook her up to the portable dialysis machine in their Springvale home. It's something they do three days a week for four hours each time.
"George is my 'doctor' and without his help I don't know what I'd do," she said.
Mrs Flintoff said she and her fellow patients keep being told the situation was acceptable "but we can't get it through to them that it isn't acceptable".
She said satellite dialysis treatment was available in far smaller communities than Wanganui.
"Wairoa, for example, has got one and there's only a couple of dogs and a horse there."
She said the health boards have "promised plenty but never delivered".
"They always say it's too expensive."
Mrs Flintoff said the Wanganui Kidney Club had only about a dozen members but knew there were a lot more kidney patients in the city.
"We've tried to get their names from the Palmerston North Hospital where we know some of them are getting their treatment but they refuse to give us names saying it's a matter of privacy."
They meet on the fourth Tuesday of each month at 9.30am in the Gonville Health Centre in Abbot St. You can also phone Mrs Flintoff on 344 7593.