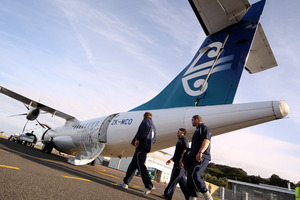 Air New Zealand is axing its Wanganui-Wellington service in December.
The move was disappointing for the city, mayor Annette Main said, "but it is a commercial decision that was not unexpected".
"We have been aware that there has been low patronage on the Wellington flights due a number of factors, including cost, a less than convenient schedule and improved driving times to Wellington.
"My understanding is that flights between Wanganui and Wellington will continue until just before Christmas.
"While any loss of service is a blow to regional centres, the timing of the flights was not as convenient as people wanted." Most people travelling to Wellington already chose to drive for convenience, she said.
Ms Main said Air NZ has assured her the Wanganui-Auckland service was not under threat.
"In fact, it is seen as having greater potential and I look forward to working with Air New Zealand on ways to ensure we utilise these services fully for both locals and visitors."