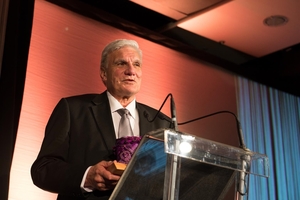 Wanganui's Peter Potaka won the Walk the Talk prize at this year's Diversity Awards in Auckland.
The awards are run by the Equal Opportunity Employment Trust and ANZ Bank and Mr Potaka was honoured on Thursday for his work during the last census "achieving the unthinkable by tapping into large ethnic communities that had previously remained hidden".
During the census he led Statistics New Zealand's community liaison team in Wellington.
Ethnic diversity has been part of his life - he's Maori and his parents still live at Pungarehu Marae in a pumice/concrete house he was involved in making. He has links to a well-known Wanganui rugby family, spent 12 years managing the Maori All Blacks and toured with them.
He's also spent years teaching Aboriginal people in central Australia, taught Malay and Chinese people on Christmas Island and driven a taxi in Wellington.
Through a diverse census team of 22 he reached Maori and Pacific people, Islamic and Bhutanese people, and gang members.
The team were the real stars, he said.
They targeted the people least likely to participate in the census. They didn't worry about why that should be - just concentrated on how to change their mindset and get them to fill in the form.
Their secret was to enlist people from the various ethnic communities.
"Unless you're part of that ethnic group you don't have any influence."
They reached Bhutanese people in Nelson through a team leader who was a part-time driving instructor and was teaching the women to drive. They extended the net to Muslims through a contract with the Federation of Islamic Associations.
They connected to young workers through the Department of Labour and allied with refugee organisations. They told Northland people to fill in their forms because each resident brought $3000 of health funding into the area.
"We were saying to these people, when you do use the services you're going to be waiting in a line. The resourcing is based on those figures."
Mr Potaka went to Parikino School, then Wanganui Boys' College, then Palmerston North for teacher training.
After teaching in New Zealand for two years he left for central Australia and taught Aboriginal people. In the mid 1980s he brought a group of 30 young Aboriginal people to Wanganui.
Managing the Maori All Blacks was a paid position, and "a very very special project". Mr Potaka was in the United Kingdom with them last year. He's no longer doing that job and is sad he won't be on their United States/Canada tour in October.
He had a hankering to try self-employment, so bought a Corporate Cab and drove it in Wellington for three years.
Six years ago he was enticed back into the public service by a job in Maori policy with the Department of Statistics. He's now managing its outreach and information services team.