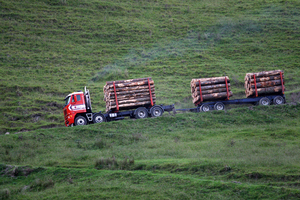 Harvesting Wanganui's forestry estate will have an impact of millions of dollars on the district's back country roads.
A Wanganui District Council study into the effects of forestry on our rural roads showed it would cost an extra $20 million over 30 years to provide the present level of roading "service".
With more of the district's 15,000ha of pine plantations nearing harvest, council engineers are planning meetings with forestry managers to mitigate the impact of the expected increase in heavy traffic on rural roads.
The council will also be working with Horizons Regional Council in a bid to ease the impact logging trucks are expected to have on those largely unsealed roads. Mark Hughes, district council infrastructure manager, told the Chronicle the decade between 2020-30 was expected to be the period of the most intense harvesting in the Wanganui region.
He said council staff would be working with Horizons at the time forest "harvest plans" were submitted to the regional council under conditions of its One Plan.
This would take into account any areas of risk within the district council's roading infrastructure, and that included the roads, culverts and potential roadside drainage.
Mr Hughes said the district council could not impose special conditions for road users such as the multi-axle logging trucks.
"Our District Plan, bylaws or other council resolutions currently don't contain provisions that would allow council to impose restrictions on vehicles on using public roads and which comply with current traffic regulations," he said.
But the council does not have to improve its assets to meet the demand of forestry access.
These limitations could include infrastructure such as narrow bridges.
Mr Hughes said there were a number of rural roads across the district that would be under pressure when forest harvesting stepped up; roads that linked the forests to the state highway network.
These include Brunswick Rd, Blueskin Rd, Tokomaru East Rd, Tokomaru West Rd, Rangitatau East Rd and Rangitatau West Rd in the Brunswick area on the western side of the district, and Kauangaroa Rd and Warrengate Rd on the eastern side of the district.
"There are also isolated roads, such as Creek Rd (Mangamahu), Mangaone Rd (off SH4), Kauarapaoa Rd (north of Aramoho) and Hawken Rd (off SH4), that will come under pressure from logging operations," he said.
At present there are no truck class restrictions on these roads except for the 50Max High Productivity Motor Vehicles (HPMVs), which have nine axles and are longer than usual truck-and-trailer units.
But there are weight and speed restrictions on a number of bridges, and in some cases they are only allowed to carry 60-70 per cent of the normal gross weight allowed on them.
Mr Hughes said asking the transport companies to carry lighter loads would not improve the situation either.
"Since the distribution of weight was through their axles, lighter loads would have minimal impact on the axle weight distribution on the pavement because the trucks will simply be smaller and more frequent," he said.