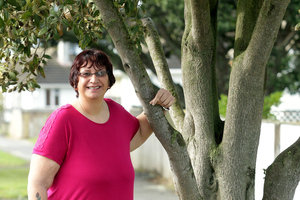 Last year, 38-year-old Wanganui woman Kelly Blackburn couldn't walk to her own clothesline ... but now, after losing nearly 60kg, she's walking around the bridges.
In November, she weighed 178.2kg, was suffering from depression and so overweight she was virtually confined to a chair in her Gonville home.
Her health was so poor that she had been forced her to give up her job as a caregiver months before, and she was eating junk food, gaining weight and very unfit.
"I couldn't even walk to the clothesline." Her sister Sandy was concerned, and refused to get her junk food.
"Instead, she said to me, 'Come on, let's do something about this', and we went and saw Pushpa at the hospital."
Pushpa Waati is the community dietitian at the Whanganui Regional Health Network, formerly the Primary Health Organisation.
Ms Waati said she had some tough words for Ms Blackburn, who was having difficulty breathing and whose weight was impacting on her life expectancy.
"I told her if she wanted her health back she had to make changes," Ms Waati said.
Together they worked through what she was eating ... and it was mostly bad.
Ms Waati told Ms Blackburn to get up earlier and eat a proper breakfast; cut down on fast food; eat her meals at the dining table instead of in front of the television; and drink water instead of soft drinks.
"I gave her three or four things to work on, and when she came back to see me a month later she had lost 10kg. After that she hasn't looked back."
She said Ms Blackburn was very motivated and recorded everything she ate to make sure she was taking in fewer than 2000 calories a day. "Once we had corrected her diet, we needed to get her exercising."
Ms Waati sought help through Work and Income to get passes for the Splash Centre and then Inspire Fitness and the overall effect has been a remarkable transformation.
"With correct diet and exercise, we have seen big changes in her cholesterol and blood sugars," Ms Waati said.
Ms Blackburn said her weight had fluctuated since she was about 20 years old and a succession of "yo-yo" diets had been of no benefit.
This time she had decided to do it through hard work and without the use of "gimmicks'.
"I haven't used any shakes or any pills - it's all natural."
She is still working toward her goal - a weight of 90kg - but Ms Waati said Ms Blackburn was so inspirational she had suggested she should train to be a leader to help others on the Piki Te Ora self-management programme.
"She has been so motivated for such a long time that she has great leadership potential."
Ms Blackburn said she felt like she had a new lease on life.
Apart from her diet and training, she also enjoyed walking with her family.
Last week she walked from the City Bridge to Dublin St Bridge through Kowhai Park.
"And to think, before I started my journey I could hardly get out of my seat."