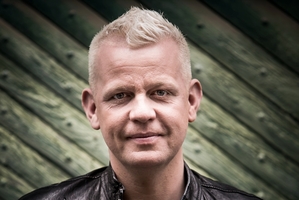 A leading fashion designer to the stars hopes his visit to Rotorua this weekend will "deliver big time" and be a source of inspiration for future work.
Jorgen Simonsen, a haute couture designer who has dressed Hollywood stars such as Madonna, Dame Elizabeth Taylor, Nicole Kidman and Jennifer Lopez, is in New Zealand on a whirlwind trip to launch an eyewear collection he's designed.
Mr Simonsen said it was only natural to spend his free weekend visiting Rotorua - a place he has heard people rave about.
Before visiting New Zealand, Mr Simonsen said he researched the country and Rotorua seemed like such a "unique and rather special place" and one unlike most places he'd visited.
"The spectacular scenery and breath-taking grandeur of nature here is legendary."
Mr Simonsen said he didn't know too much about Rotorua although people had told him about the "unique" smell.
"But apparently you get used to the funky smell after a little while," he said.
Mr Simonsen said he'd also heard of Rotorua's reputation for spa treatments and planned to indulge in one, even if time was scarce.
"I am looking ever so much forward to visiting the geothermal park with Hell's Gate and, as mentioned, the hot water springs and the steaming mud baths as well."
Mr Simonsen said as a designer, nature was one of his biggest inspirations and he was hoping for good weather to get inspirational photos to take home.
"I have seen photos of the amazing colours here. The bright sulfurous Hermes orange and the deep imperial jade set against the slate and taupes of the mud."
He also planned to head for a ride in the gondola and get an insight into Maori culture.
Mr Simonsen said he was constantly "switched on" and always took things in to rework immediately or to store and translate into something fashion geared later.
He said he was hoping - and expecting - for the colour to blow him away.
"I love nature. It is a great, if not the greatest source of inspiration, and I really pin my hope Rotorua will deliver big time and truthfully give me an amazing experience."
Mr Simonsen's eyewear range, Osiris, is available at Specsavers.
For more articles from this region, go to Rotorua Daily Post