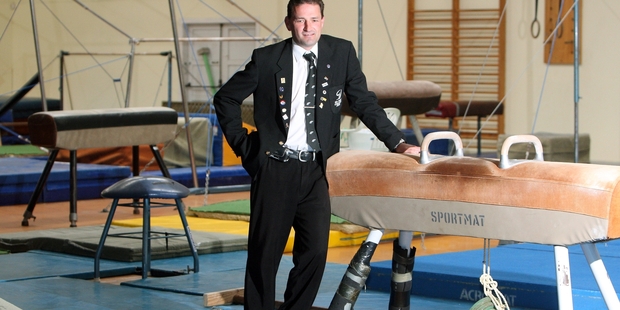 There will be lots of eyes watching Ken Bow's every move as the Commonwealth Games men's gymnastics competition gets under way today.
But local real estate agent Mr Bow isn't tackling the vault, horse or high bar, instead he is on the panel of judges for the men's artistic competition.
Mr Bow, who is a member of Mid Island Gymsports ( Migs) in Rotorua, has been a judge for many years after retiring as a competitive gymnast.
His inclusion in the Commonwealth Games - his third Games as a judge - has excited all at the club and they hope it will have many spin-offs.
"Ken's involvement in the Games gives everyone an opportunity to see you don't have to be a gymnast to be involved in sport," said Migs centre manager Alesha Morris.
"He's ranked No2 in New Zealand and it's hugely exciting for us. Ken actively coaches men's artistic gymnastics and he still mentors and coaches the kids. We'll be watching to see if he appears on TV and what he's judging.
To judge at the Commonwealth Games you have to be at a certain level."
She said events such as the Commonwealth Games, where gymnastics received more television time than normal, gave parents and children a better idea of what sports there were.
"It's not about kids competing all the time. There are other aspects that people can get involved with - there are lots of different opportunities.
"We definitely see an increase in participation after these events. Gymnastics is a great foundation sport."
Sport Bay of Plenty sport manager Megan Cleverly said viewers keen to get involved could get in touch with them for contact details.
"Table tennis and badminton are two of our growth sports - they are huge and that's not even with the Commonwealth Games. There's very clear evidence that success overseas inspired our young ones to take up sports.
"We saw that with rugby and we're seeing it with football following the World Cup.
"Kids dream of being like these people."