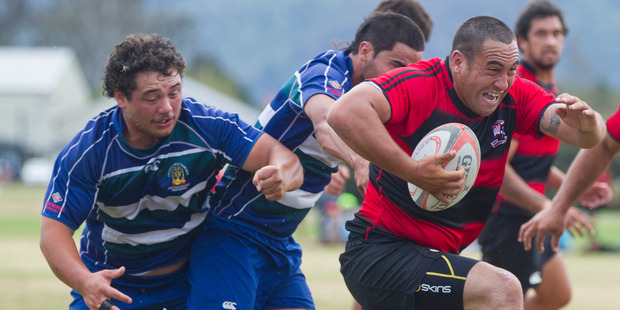 Whakarewarewa would play their grand final against Mount Maunganui today if they could, according to coach Ngarimu Simpkins.
Whaka coach Simpkins said his side was champing at the bit to get started in the Baywide premier final.
"There is heaps of fire in the belly. There has been a lot going on behind the scenes but we have really blocked that out this week," he said. "We are cherishing the week and we can't wait to go and get our hands dirty."
Whaka have played some excellent rugby during the back-end of the season which has seen them defeat top sides Tauranga Sports, Mount Maunganui and Te Puke Sports in recent weeks.
Simpkins said the whole side was very focused and knew what they needed to do tomorrow. "We spoke about the Mount and we are giving them the respect that they deserve. But it is going to come down to us."
Simpkins said it was a big honour to play in a Baywide final and they would look to do Rotorua rugby proud.
"We are not only representing Tuhourangi but also the Rotorua community as well."
Simpkins has named a similar side to the one which defeated Tauranga Sports last weekend in their semifinal clash.
This will be Whaka's fourth grand final in the past nine seasons.
The grand final match between Whakarewarewa and Mount Maunganui kicks off at 2.45pm tomorrow at Tauranga Domain.
Can Whaka even the odds?
If even numbers are anything to go by, Whakarewarewa should go into the Baywide final as favourites.
Whaka have been to the big dance on four occasions since 2002 - winning two finals and losing two.
They won the Baywide premier competition in 2002 and 2006 and lost it in 2007 and 2011.
Interestingly, both times they have lost the competition have been during odd-numbered years (2007 and 2011).
On the other hand, both victories have been during even-numbered years (2002 and 2006).
Whaka supporters will hope that run continues tomorrow when they play the 2014 grand final.
Team lists for tomorrow's grand final
Whakarewarewa: 1 Henry Kershaw, 2 Trent Sweeney, 3 Jone Lesi, 4 Riiki Waitoa, 5
Jake Rogers, 6 Slade King, 7 Pomare Pirini, 8 Siegfried Fiisihoi, 9 Akira Mako, 10 Te
Rangi Fraser, 11 Chanse Perham, 12 Doug Edwards, 13 Leighton Simpkins, 14 Jason
Harvey, 15 Whaimotu Craft-Chemis; 16 William Grace, 17 Seth Shcenk, 18 Boxer
Smith, 19 Harold Koia, 20 Connor Hohepa, 21 Kimo Houltham, 22 John Ririnui. Coach:
Ngarimu Simpkins.
Mount Maunganui: 1 Miro Mitchell, 2 Vyron Smith, 3 David Smart, 4 Aaron Carroll,
5 Sam Mayes, 6 Johan Bardoul, 7 Matty Axtens, 8 Chris Elvin, 9 Sami Fisilau, 10
Cayden Matahaere, 11 Danny Kayes, 12 Malakai Kisina, 13 Zar Lawrence, 14 Andy
Devoy, 15 Mason Walker; 16 Adam McGarvey, 17 Chad Jaycobs, 18 Chris Gillies, 19
Josh Sole, 20 Caleb Oakes, 21 Solomona Sakalia, 22 Taite Smith. Coach: Rodney
Voullaire.