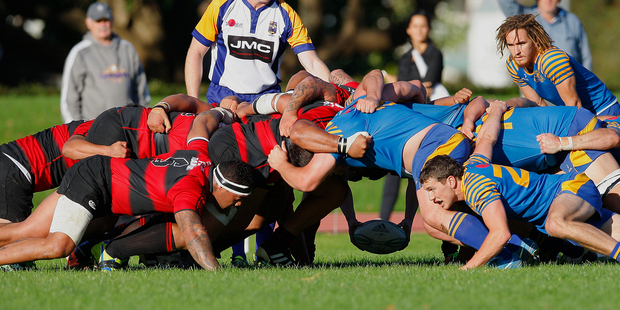 Whakarewarewa are through to the Baywide semifinals after defeating Mount Maunganui in Rotorua.
Whaka needed to win today to cement their spot in the playoffs next week.
Torrential rain had its part to play in the low-scoring affair, which Whaka won 7-3.
The victory means Whaka will play Tauranga Sports next weekend away, in the semifinal. It is the first time Whaka have made the semifinals since 2011.
Meanwhile, Greerton are the side to miss out on the semifinals after losing to Tauranga 16-5.
Rotoiti had a loss to end their season today, when they went down to Te Puna 50-14.
Baywide rugby results today:
PREMIER
Whakarewarewa 7 vs Mount Maunganui 3
Te Puke 43 vs Rangiuru 3
Tauranga 16 vs Greerton Marist 5
Rangataua 21 vs Opotiki 17
Te Puna 50 vs Rotoiti 14
DEVELOPMENT
Whakarewarewa 10 vs Mount Maunganui 17
Te Puke 21 vs Rangiuru 0
Tauranga 20 vs Greerton Marist 10
Rangataua win vs Opotiki default
Te Puna 48 vs Rotoiti 12
DIVISION ONE
Kahukura 8 vs Paroa 13
Poroporo 17 vs Marist St Michael's 7
Te Teko win vs Katikati default
Waikite 19 vs Ngongotaha 9
Whakatane Marist 21 vs Arataki 23
Baywide standings:
PREMIER
Te Puke 68
Tauranga 64
Whakarewarewa 63
Mt Maunganui 61
Greerton Marist 56
Te Puna 34
Rotoiti 33
Rangataua 30
Opotiki 27
Rangiuru 14
PREMIER DEVELOPMENT
Tauranga 75
Te Puke 73
Greerton Marist 69
Mt Maunganui 63
Te Puna 47
Opotiki 42
Rangataua 33
Rangiuru 31
Rotoiti 22
Whakarewarewa 12
DIVISION ONE
Paroa 38
Arataki 27
Poroporo 25
Waikite 24
Kahukura / Te Teko 23
Ngongotaha 14
Whakatane Marist 12
Marist St Michael's 7
Katikati 6