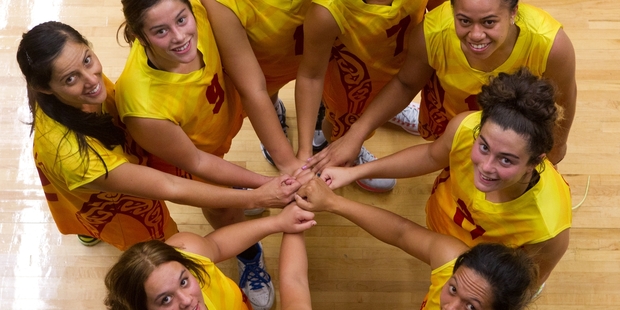 It was a tough day at the office for the Rotorua Wahine basketball team during the first round of the National Maori Basketball Tournament.
The women's team went down to one of the tournament favourites Waitakere, 81-47, at the Energy Events Centre yesterday.
It is the first time the tournament has been held and Rotorua have won the rights to host the event for the next three years.
Rotorua Wahine senior player Ema Pene said their team was a mix of Rotorua players and Counties Manukau players this year.
"That was our first run together," she said after the first match.
"I think we will have to regroup after this one and set some goals for the rest of the tournament."
She said it was good playing at home in front of friends and family and they wanted to do their supporters proud.
The Rotorua Wahine women's team are in a pool of five and need to make the top three if they want another shot at Waitakere in the playoffs.
Pene said she enjoyed playing with her two sisters, Ellen and Te Kirikauri, who also feature in the open women's team.
"You can tell each other things that others might be hesitant to say, but I think it makes us better players."
The Pene family actually has enough sisters to put together a full team, with two other sisters playing in the under-17 and under-13 competitions at the tournament.
Rotorua's Sue Pene, Ema's mother, said she was looking forward to seeing all of her daughters play together one day at the tournament.
"I would love to see all five play together. They have [played together] in a club night but not in something like this."
The three-day National Maori Basketball Tournament, which finishes tomorrow, includes under-11, under-13, under-15, under-17, open men's, open women's, mixed and wheelchair competitions. Rotorua have a team in each division except the boys' under-17 competition.
Sue, who is also the Rotorua Basketball Association development co-ordinator, said it was a big deal to host the tournament in Rotorua.
"We had to tender for it and there were a couple of other centres that also wanted to host it."
The tournament includes 45 teams and 350 players this year.