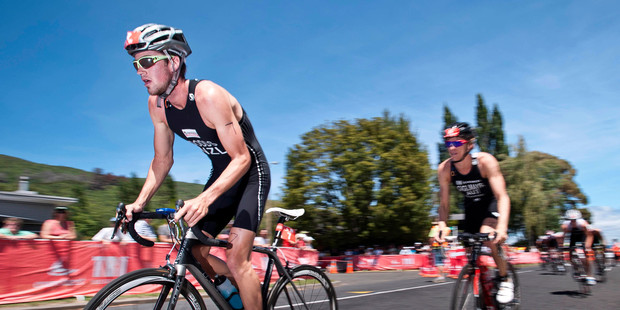 Top national and international athletes will line up near Taupo this weekend for the Oceania Sprint Triathlon Championships at Kinloch.
Held on the shores of Lake Taupo, it will be among the toughest races held in New Zealand outside of ITU World Cup and World Series events.
A top international field will take on some of New Zealand's leading triathletes in the latest round of the .kiwi Tri Series.
World No13 Ryan Sissons of Auckland goes in as the leading New Zealander and top ranked athlete in the men's field and is aware this will be a significant step up from his win in the .kiwi Series at Takapuna last weekend.
Tomorrow sees the individual races take place with mixed team relay racing on Sunday.
New Zealand Sprint titles are also on the line for the Kiwis tomorrow, but they will have their work cut out with a host of athletes from France, Australia, Ireland and Hong Kong lining up to chase vital ITU points.
"This will be a decent field - with respect, a totally different field to last weekend," Sissons said.
"I love the race here though, I always enjoy racing in Kinloch, it is a hard course and usually quite hot and with the quality of the field I am looking forward to another hard race."
The field includes Australian Olympian Brendan Sexton, who has won the British sprint title, and his countryman Jakob Birtwhistle who won the gold at the 2013 Australian Youth Olympic Games, and is regarded as a future star in the sport.
"My goal is to be in the front pack out of the swim, be in amongst it on the bike and close it down on the run again," Sissons said.
"The bike is always hard with the hill, it is going to be tough every lap.
"I'm going to try and be near the front each lap and control things from there.
"I know I am really fit so there is no issue there, we know what we are in for on the bike, but you want to save a little for the run.
"There are a few good Aussies, Bryan Keane from Ireland and, of course, Doddsy [Tony Dodds] who could be there off the bike so you know it is going to be quick," Sissons said.
International teammate Dodds will line up for the first time this summer after bypassing the Takapuna event.
The Wanaka-based athlete has won twice on this course but crashed out in the same event last year.
"We always go in reasonably fit and coming down from altitude I am a little tired but very fit," Dodds said.
"I have no big expectations, especially with the overseas contingent here to race."
The men's sprint race is a 750m swim, 20km bike and 5km run and it gets under way at 2pm tomorrow. It is preceded by the elite women's race at 12.45pm, with age group racing commencing at 6.50am with the Erin Baker Trophy race and National Sprint Championships in all age groups.
The Kinloch round of the .kiwi Tri Series forms a series of quality international standard races, followed next week at Pegasus in Christchurch and then in March by the ITU World Cup Sprint in New Plymouth.