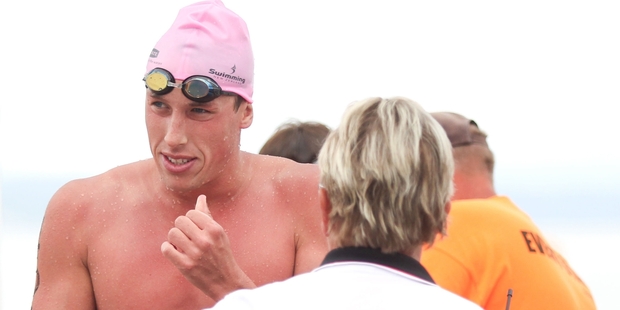 A Kiwi link more than 5000km away is the key to the reinvigorated open-water swim hopes of Rotorua's Kane Radford.
The 23-year-old swimmer is back from his training base in Western Australia to chase his third straight national title at the State New Zealand Open Water Championship in Taupo this weekend.
Radford is bringing good form with him with the added incentive of the Oceania Open Water title also up for grabs in the clear waters of Lake Taupo.
It is a stepping stone for the Rotorua swimmer, who is pushing hard to join the "in" crowd on FINA's 10km World Cup circuit this year.
The New Zealand No1 open-water swimmer also wants to perform well in August's Pan Pacific Championships on the Gold Coast.
Radford missed out on qualifying for the 2012 London Olympics and he sees the World Cup circuit as crucial to his chances of making it to Rio.
That's why he jumped at the opportunity to move to Perth to train under New Zealand-born coach Mel Tantrum at the acclaimed Uniswim club in Perth.
Tantrum trains a raft of leading open-water swimmers including current Australian No1 Rhys Maidstone and Japan's top-ranked Yusunari Hirai, who is also competing in Taupo.
"There are us three guys and a young girl, Sacha Downing, who has made her first Australian team.
"It's pretty unique to have four international open-water swimmers in one group. I have not been in a better training environment, where I am able to pit myself against world class open-water swimmers every day."
Radford faces some tough competition at the weekend in Australia's Ridge Grimsey and Josh Richardson and Samoa's Brandon Schuster.
Meanwhile, Radford's fellow New Zealand teammates Philip Ryan (Auckland) and Troy Balvert (Cambridge) will also be chasing top spot.
While Radford is seeking his third straight victory at Taupo, his main focus is making the World Cup circuit.
"That is an absolute must for me to be able to race the best in the world on a regular basis. The top five guys in the world were all on this circuit. To race them six or seven times in a year is going to be a vital part of my development if I want to qualify and compete strongly at the Rio Olympics."
The 10km State New Zealand Championship is on tomorrow morning along with a range of recreational swims from 100m to 10km, with the 5km national championship and a masters race on Sunday.