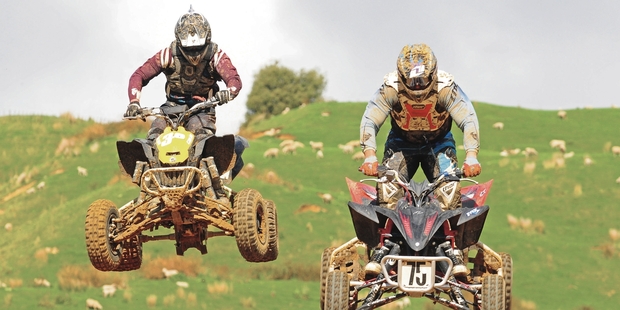 Amberley's Ian Ffitch will be looking to reclaim the premier national ATV (quad bike) title at the national championships near Te Kuiti this weekend.
The multi-time national champion had a slew of international racers to deal with last season and it was an American pair - Chad Weinen, from Illinois, and Josh Creamer, from Connecticut - who relegated the Kiwi to the No3 spot on the podium.
Honda rider Ffitch is determined to step back on the top step at the two-day 2013 New Zealand ATV Championships and, even if the two Americans aren't crossing the Pacific this time, still reckons he'll have his work cut out to win the premier grade title.
"I suppose I am the favourite," he said, "but there are still plenty of very fast New Zealand riders who will make things extremely tough.
"The American riders came over because the host Canterbury club paid for their trip last year and I doubt the same will happen this year.
But there are plenty of fast Kiwis anyway," said the 43-year-old, who works as a "parts supplier to the industry" and therefore is possibly assisting his rivals.
"I'm expecting tough competition from Taranaki's Keegan brothers, Scott and Camo, and from Rotorua's Jason Jepson, too. They'll be tougher than ever to beat ... it'll be all on.
"What some don't have in raw talent, they make up for in desire and determination. It's just a matter of them having everything come together and they could win."
Ffitch's grand plan is to demoralise his rivals.
"It is important for me to be strong right from the first race, so a little self-doubt creeps in for my rivals. If any of these other guys get a good start to their campaigns then it'll give them a confidence boost and they'll then be tougher to beat.
"I've never raced before at this Te Kuiti track and I know the Keegan boys have raced there (at the Waikato Motocross Championships) just a couple of weeks ago, so that gives them an advantage."
The weekend's racing doubles as the North Island ATV Championships with four races in each class tomorrow counting towards those titles. Races three and four tomorrow, plus five races on Sunday, count towards the national championship.
"That means races three and four on Saturday are doubly significant. I really want to be winning by then."
In addition to multi-champion Ffitch, Stratford's Keegan brothers and the always-fast Jepson, top performances could be expected from riders such as Auckland's Kyle Chandler, Amberley's Ned George, Papakura's Andrew Vincent, Thames rider Nathan Adams, Tauranga's Mark Goldstone, New Plymouth's Jack Burr, Auckland's Craig Ridgley, Napier's Wade Taylor, Tauranga's Nathan Hunt and Auckland's Mathew Wicksteed.
Kaiwaka's Cullen Curtis and Christchurch's George Doig should be a couple of the stand-out riders in the junior ranks.