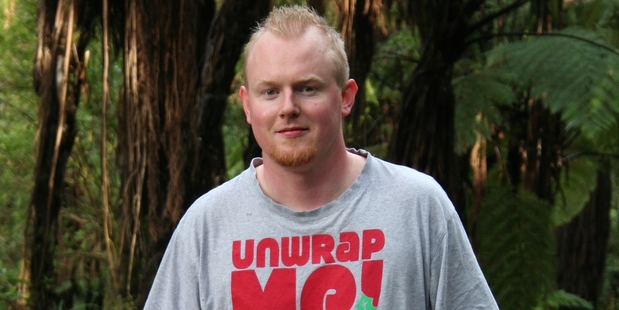 James Hood bumped into the right people at just the right time. While out jogging with his dog, Hood came across a group from the Lake City Athletic Club. Their pack leader, Kerris Browne, invited him to join them doing step-repeats. Little did she know, James had recently been told to improve his fitness for health reasons.
After four weeks of regular hill work, Browne said he was ready for more.
"James' recovery time is already improving. I've suggested he look at a distance event goal for next year."
Hood said he was now thinking about joining the Running Clinic to aim for a Half Marathon.
"I'm 27 and work at Rainbow Springs. I have a varied job which involves running the Big Splash high-tech water ride, selling tickets at the front desk, and more recently as a park attendant maintaining the grounds and so forth.
"I live with my fiance Sheila and we have been together for nine years - no children, just my dog. So I've been kind of relaxed in my life."
At high school Hood was pretty active - involved in a few different sports such as rowing on Lake Karapiro, rugby and rollerblading.
"After school I rarely did any exercise though. Work took over and so did the kilos. A recent trip to my local doctor came back with news that I was overweight with high cholesterol.
"I had to change my old ways and move on to a healthy and active lifestyle. So I've been eating better, feeling great, and love getting out for a run after work." Hood has been running for just over two months now.
"Prior to that I did no exercise apart from short walks with my dog Jazzi. She is a German shepherd and really needs plenty of exercise.
"So that keeps me motivated - it's really a workout for both of us. I saw running as the chance to get out there and get healthier."
Hood finds running with others makes you push for more, and to strive to go that little bit further. But prior to meeting Browne he had no intention to run any events.
"Now I'm keen to tackle the 10km or the half marathon. It came down to being at the right place at the right time, to stumble across Kerris and her running group.
"I decided to mix up my running route that night through the Redwoods and that's how I managed to bump into them."
The first workout was relatively easy, he said, but more recently the last workout was full on.
"I felt knackered afterwards. Being new, I was not entirely too sure what to expect. But now I look forward to Thursdays and I have done many workouts since.
"I didn't know about the 50th Marathon, but now I'm considering joining. I'm not really afraid of the challenge but more excited in being able to tackle your goals and to keep pushing yourself."
The Lake City Athletic Club is running a Free Information Evening on Thursday November 7, for those considering a 10km, Half or full Marathon for next year's 50th Jubilee. Meet at 7:30pm at the clubrooms, Neil Hunt Park off Tarawera Rd. For more information contact Jodie on 021 970482 or Kerris on 021 753691 or email lakecitymarathonclinic@gmail.com. www.lakecity.co.nz.