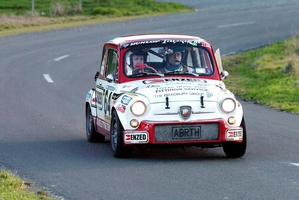 If there is one thing rally driver Mike Lowe knows about - it's punching above his weight.
The 54-year-old, originally from Australia but who proudly calls himself a Kiwi, has competed in every Targa New Zealand.
What is even more amazing is the fact his 1964 Fiat is the oldest car in the event.
Lowe is using this year's rally to build for next year, especially since the event will celebrate 20 years.
"The whole premise of this year's [racing] is we are focusing on next year. Next year is year 20 of Targa New Zealand, it's also NZ Rotorua have supported me since day one, so it's one of the longest sponsorships in New Zealand history and, of course, our little car is 50 years old next year."
To make his car compatible with the newer model vehicles, Lowe will use some Rotorua initiative.
He has modified his car and although he was keeping under wraps what the modifications were he hinted it would have a few of his competitors wondering what was under the hood.
"Our poor little darling, let's be honest, it's 49 years old this year and we do things to this car it was never, ever designed to do, of course.
"But because we run in the historic category, we are now the smallest car and the oldest car but we've always finished in the top half of the field anyway," Lowe said.
"We've been [moved] up to the 2L category in the classics so we're up against cars that are 1990 or below. So we're up against cars that are 20 years old, not 50. It's pretty tough."
Having to go up against cars which were newer and had bigger motors meant he had to do something.
"We still punch above our weight ... What we decided this year was if you can't beat 'em then join 'em. So we are very conscious of keeping the car in [its] period."
Lowe has resisted the idea of putting in a bigger motor and instead called in his mate from Rotorua Tuning Services, Jamie Aislabie, to help build a "monster" engine for the Fiat.
"Jamie has been a New Zealand sportscar champion and he is one of the best engine builders in Australasia and the fact he is in Rotorua is a bit of a secret ...
"I must admit it's taken us about nine months to get the engine together and going."
However, Lowe is confident they will iron out any issues ready for the start of the event which begins at Kim Dotcom's palatial mansion in Auckland on Thursday.
"At the end of the day we are never going to win outright. We can't beat a modern four-wheel-drive car. What we aim to do is every year we want to be the first historic car home and the first smallest car home."
Lowe said he had a great team with his co-driver Phil Sutton and his mechanics who work hard to get the Fiat ready to rumble.
To find out more about Lowe and his team check out their website Team Abarth www.teamabarth.co.nz