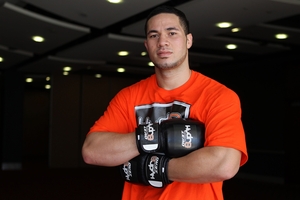 Less than three days out from the biggest fight of Joseph Parker's career, his coach Kevin Barry and promoter Dean Lonergan are in a sparring match.
Barry, a former boxing Olympian, said he was "p*****" with Lonergan's decision to offer Sonny Bill Williams $1 million to put his New Zealand heavyweight boxing belt on the line to the winner of Parker and Afa Tatupu fight.
Talking to the Rotorua Daily Post today, Barry said it's not the first time Lonergan has thrown up a "roadblock" prior to a Parker fight.
"I love the guy but I wonder sometimes what goes on inside his head. Him and I have had this discussion before. He's supposed to be Joseph's promoter and his representative.
"The decisions that he makes, I always think, you've got to make the right decisions for the fighter before you worry about promoting and moving too far ahead.
"He did the same thing to us with the Botha fight and I was really p***** when he did that and I really thought he would have learned his lesson."
However, Lonergan said Barry needed to "get the blinkers off" and take Parker out of "cotton wool".
"What Kevin doesn't understand and agree with that we are doing is, we are getting Joseph ready for the big time.
"One day in the perfect world he's going to fight for the heavyweight title of the world. Now if he's going to do that, he's going to have some tough challenges on the way," Lonergan said.
"So what we're doing is putting Joseph though a series of tests and challenges to fight guys who are incredibly motivated and it's pretty simple. pressure creates diamonds.
"Now along the way Joseph Parker is either going to rise to the challenge or not. Now in my opinion he 100 per cent will and Kevin needs to get the blinkers off and start taking his boy out of cotton wool."
Although Barry was employed by the Lonergan-run Duco Promotions, he had no trouble telling his employer if he was doing something wrong.
"I'm nobody's pony. I'll put him in check. The guy runs the company that employs me and there has been many times, I've put him in check when I don't think things are right. This is one of those things."
The coach said he would have preferred Lonergan had waited until after the fight to announce the million dollar deal.
He said despite the call he was certain his fighter wasn't letting the controversy get to him.
Meanwhile, Lonergan said Barry's comments were typical of the boxing coach.
Parker and Tatupu are set to fight on Thursday at the Trust Arena in Auckland.
Duco Promotions is expected tomorrow to release the name of the fighter who will take on Rotorua's own Temuera Morrison who is featured on the undercard.