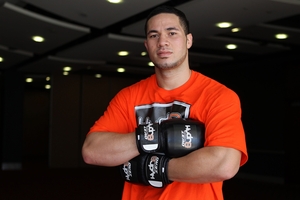 For the past month there has been no time to rest for up-and-coming boxing star Joseph Parker.
But you won't hear the 21-year-old complaining; in fact the 1.97m giant is thriving in the professional boxing world, thanks mainly to his equally hard-working boxing coach Kevin Barry.
Parker has just returned to New Zealand from his training camp in Las Vegas, looking lean and ready for his fight with "King" Afa Tatupu for the New Zealand National Boxing Federation title at the Trusts Arena in West Auckland on Thursday.
"About four-and-a-half weeks ago when we did the media tour [in New Zealand] and when Kevin said 'that when we go back [to Las Vegas] we're going to hit the ground running' he wasn't joking."
Parker said he had clocked up a lot of kilometres on the road and equally a large number of hours in the ring, sparring in preparation for his heavyweight title fight.
"We've put in something like 130 rounds of sparring, also doing a lot of technique and skill work in the ring.
"I'm pretty excited, it's a great opportunity and I'm looking forward to next week," Parker said.
The orthodox (right-handed) fighter said he put his improvement down to his trainer, former Olympian Barry. "When I first [turned professional], I was still doing a lot of mistakes and it was quite hard to sway away from what I was doing in amateurs, but having a guy like Kevin around, he's already been there and done that with a lot of different guys.
"[He's] given me the confidence to move me into the professional ranks a lot better and with that, moving into the professional ranks, it's lifted my confidence," Parker said.
"I feel like I'm ready to take on the world. Taking those right steps and the right times. I pretty much trust in my team and my coach."
Parker's opponent is no slouch. Tatupu has nine wins and four losses as a professional and is known in the boxing circles as a big hitter.
"I'm grateful for the opportunity to be fighting for the New Zealand title at this stage in my career. I know where I'm at, I'm still at the beginning.
"Having a guy like Barry, who is real knowledgeable about boxing and has all the contacts. He knows what he's talking about," Parker said. "He's given me the confidence and I'm ready for the challenge ... It's a great opportunity, to get the title off someone whose worked equally as hard. I know he's gonna come ready and prepared."
The humble youngster said he was looking forward to having the support of his boxing fans from Rotorua.
"For me on the night, they [fans] are going to expect to see someone who's worked real hard ... I've been getting messages of support from all over New Zealand and some from Rotorua as well and those messages motivate me and push me to train harder."
Barry said Parker's fans were going to be surprised by the Parker who steps into the ring next Thursday compared with the Parker who stepped into the ring against Francois Botha in June. "He is a much better now than a young man in June. During that time I only had him for eight weeks and all we concentrated on was the fundamentals.
"Starting this camp, we've had two eight-week camps. I've introduced him to a lot more ...
"I am very excited about it, so much more this time because he has improved from that last time."
Hollywood actor, Rotorua's Temuera Morrison, is on the undercard of the Parker fight and a replacement to face the Once Were Warriors star will be announced on Monday, said Duco promoter Dean Lonergan. Morrison was meant to take on radio DJ Mike Puru; however the 38-year-old was injured while training for the event.