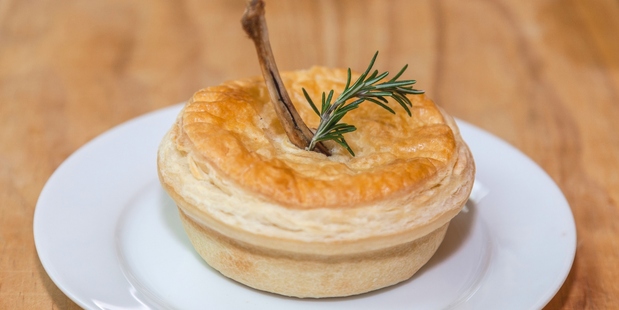 If you were to ask everyone what they thought New Zealand's most iconic food was, I'd bet my toasted sandwich maker most people would say "the pie".
Pies have come a long way from my school days. We didn't have a tuck shop at my primary school, but we did have a pie warmer. We'd pay our $1 note before school started and line up to get our hot pie when the lunch bell rang. There was just one flavour: mince.
It was luck of the draw — you could get the sturdy, evenly heated pie, or the pie that looked like it had been heated by a blow torch and would take the first three layers off your tongue, or the pie that hadn't been heated through and was still floppy.
How to eat the pie was a source of playground arguments too — did you take off the lid and scoop out the mince, or did you chomp your way through it?
These days, you can get a pie in just about any flavour you can imagine.
After hearing the news that a lamb cutlet and kumara mash pie had won the top honour at this year's New Zealand Supreme Pie Awards, my first reaction was: that sounds delicious but why would you encase it in pastry?
It sounds perfect as a roast dinner on a plate. Don't mess with perfection.
I realise now that this is actually an ingenious idea. It's a meal you can eat with your hands, on the go.
That's what is so appealing about pies — their versatility.
Our Bay pie makers usually fare quite well in the annual pie awards.
Rotorua baker Pat Lam wins the judges over with his weird and wonderful flavour combinations most years but this year, Mount Maunganui's One Tree Bakery owner Bunchoeun Keo took out the chicken and vege category. Pie lovers rushed to his shop yesterday to taste the winning entry.
Good on Mr Keo, and good on pie lovers everywhere for keeping the Kiwi tradition alive. Long may it continue.