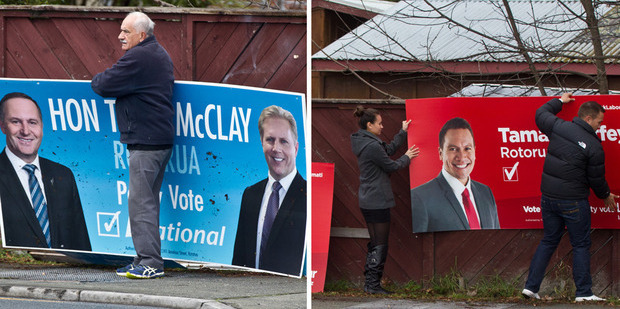 If you weren't aware there was a general election looming, you'd certainly know now.
Election signs started going up at the weekend, and faces including those of our Prime Minister, National MP and Labour candidate are beaming out from fences across the city, most noticeably at properties on busy intersections.
It wouldn't be drawing too long a bow to assume that those living at those properties support whoever's billboard adorns their fence.
But as we've seen this week, that's not necessarily how it works.
On Tuesday we reported on Old Taupo Rd resident Kayla Hayward, who despite being a Labour supporter, said she'd be happy to see a range of smaller signs from all parties on her fence.
She'd given permission for one National party sign, but was unhappy to find several had been put up at the weekend.
She asked National MP and candidate Todd McClay to remove them, and offered the space to Labour candidate Tamati Coffey.
Tenant gets wayBut the address's property manager Richard Evans said he'd given National permission for the signs and that it was none of Ms Hayward's business. He told Mr McClay the signs could go back up.
Sensibly, Mr McClay has decided to respect the tenant's wishes and leave well enough alone.
Council guidelines do say a political party must have the consent of the landowner to put up signs.
But surely it makes little sense to do so if the tenant is unhappy about it.
As one landlord pointed out in an online comment on story - "It's my house, but it's their home".
Good tenants who pay their rent and look after the property deserve every consideration.
They're paying for it - why should the landlord or owner suddenly step in to use the property for their own reasons?