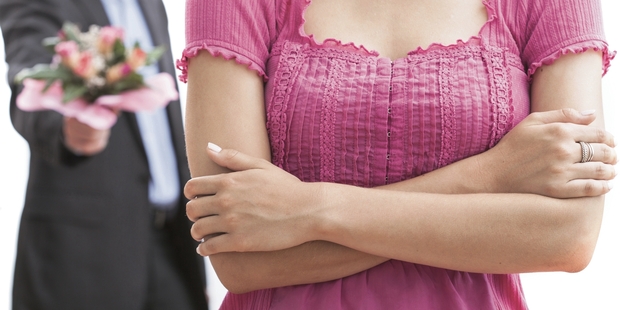 Occasionally, Mrs P lets it be known she is a big fan of receiving gifts.
We're not talking big, blockbuster presents that leave nothing but an echo in a decimated wallet, but certainly something that a bit of thought has gone into.
These gifts can be given at any time. They don't have to just be offered up at birthdays or Christmas. Any day that ends in a "y" is just fine.
During the early days of our relationship we showered each other with little tokens of fondness. Well you do, don't you? But then, like most couples I'm sure, we sort of stopped doing it. Don't know why. We just did.
Maybe the house was getting too full of special candles and wall hangings with the word "Love" printed in large letters on its side (presumably so you can read it while lying down), I don't know. But stop we did.
So when the subject of gift purchases arose during an after-work catch-up cuppa this week, I had no reason to believe I would be in the frame. Or so I thought.
I had spent a rare day in an office in Tauranga (I usually work from home) and found myself cornered as the women of the premises planned the ritual dismemberment of the husband of one of their number.
The poor chap's crime? He'd gone to Greece with a group of people on some business or other and had not bought a present home for his beloved.
She was not happy.
While much comforting went on among the sisterhood and I tried to quietly slip out of sight, every man within a 20km radius was immediately branded a selfish sod.
Anyway. It seems the poor fellow had gout on the trip and was laid up. Presumably he could not even manage a visit to such relics of the ancient world as the Acropolis or the Parthenon (or Costa's Souvlaki Bar, for that matter). But according to the sisterhood, he should have made more of an effort to buy a gift.
To make matters worse, he didn't even think of asking one of his fellow visitors to grab him a little something for his lady. But what really put him in deep doodoo was what he did come back with - a little something bought duty free in Brisbane.
Over the coffee cups this revelation was greeted with a look from Mrs P which suggested a) she would be a shoo-in for immediate membership of the sisterhood and b) all men within a 20km radius are selfish sods (see above).
But what about the fact he tried his best and at least got her something, I offered meekly. Surely it's the thought that counts?
Apparently not. Well, apparently not always.
While us blokes may have read somewhere "it's the thought that counts" and this can apply on occasions, it seems it does not apply when you go overseas to Greece - or to Wellington back in January with 15 of your golf mates.
Thus I was reminded of my failure to bring back even a tiny little present for Mrs P after my five-day sporting excursion.
Protestations of having no time or injuries requiring treatment (okay, it was a blister on my heel but it really hurt) were dismissed and my failure to observe the expected niceties of a loving relationship were laid bare - four months after it happened.
I don't really know why the delayed reaction surprised me.
Some years ago I turned up at a friend's house and quickly worked out he and his good lady were in the middle of a spat.
Apparently she had bought herself something and the purchase had been, shall we say, "questioned".
"Well, you bought those golf clubs," came the response.
Obviously interested in any purchase involving sports gear (it's a man thing), I asked my mate if he had, in fact, sneakily gone out and bought some new golf clubs.
"That was 10 years ago," he groaned.
It seems some things are never to be forgotten.
Kevin Page has been a journalist for 34 years. He hasn't made enough money to retire after writing about serious topics for years so he's giving humour a shot instead.