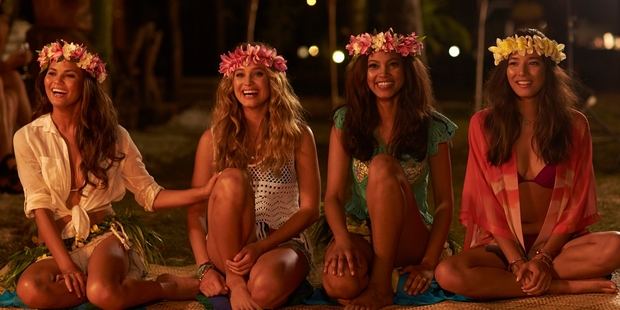 Air New Zealand's new "highly sexualised" safety video featuring bikini-clad models from Sports Illustrated magazine has been criticised for objectifying women. The airline boasts it has produced "the world's most beautiful safety video", dubbed Safety in Paradise.
The video is about to be rolled out on all routes to tie in with the 50th anniversary of the Florida-based Sports Illustrated magazine's swimsuit edition. Air NZ's head of global brand development Jodi Williams (and master of corporate speak) said that working with the magazine was "a phenomenal opportunity to further lift the airline's brand on the global stage".
To the Air New Zealand top brass - ladies and gentlemen, you have lost the plot. Entertaining as it might be to some, and offensive as is to others, it's clear that the real message of "safety" is buried way too deep in the content of your latest video. Many will choose to close their eyes rather than watch it.
Most passengers would rather settle into the start of their journey without being pestered by any of this promotional rubbish. It bothers me - scares me actually - to see the indifference shown by so many passengers, when such videos are supposed to tell them what they should do in "the unlikely event of an emergency".
For sure, entertainment can be a mighty good way to get the message across, but with this video - bah! Just give us the basic safety drills where the cabin attendant simply stands in the aisle and demonstrates the procedures in real life. And if you do happen to have an attractive hostess near your row - treat it as a bonus.
***
There's nothing like a good bun fight for entertainment and right now there's a major one in full fling down in Hawke's Bay between the Napier and Hastings mayors. It's all about the chronic shortage of storage space at Hawke's Bay's new museum in Napier.
It looks likely that it will hold only 40 per cent of the $44 million collection of about 100,000 objects owned by the Hawke's Bay Museums Trust, which is funded by Napier and Hastings councils. Only 40 per cent! The space deficit botch-up is so embarrassing, that both mayors are denying any responsibility, with volleys of "No I didn't" "Yes you did" accusations exchanged between the two.
Claims have been made that certain parties knew about the storage issue a year ago. His Worship of Napier claims that someone from the Hastings quarter made a decision to leak information to the press before the full extent of the problem was known - not that it would have made any difference.
The claim is hotly denied by the Hastings mayor. He attests that the mistake "... has only now come to our attention ..." and would happily swear on oath or sign an affidavit that he had not been informed earlier of the situation.
The "situation" is that the council-owned museum has discovered only about 40 per cent of its collection can be stored in the $18 million building despite it being originally intended to take all of it. In plain terms, the building is way too small.
The Napier City Council is right now, parking its ambulance at the bottom of the cliff, carrying out a "comprehensive review" of the museum development, its erroneous visitor numbers and its entry charges. It has ordered a "full investigation" into the new Hawke's Bay Museum, which will include a review of why it will not be able to house its entire collection as originally intended.
What a cock-up. It is unbelievable - how such a space-making misjudgment on such an important project could be made. Napier Mayor Bill Dalton said he was "disappointed" MTG could not house its entire collection and that the project "needs a little fine tuning". Oh - and there is also the additional cost in storing many of the 10,000 items in the collection off site.
***
Whoops - I hope a similar bun fight doesn't flare up in our city after the revelation of a much bigger than expected debt owed by our district council.
At least two long standing councillors say they were "completely unaware" of the budget blowout. Time to run for cover maybe.
Brian Holden has lived in Rotorua for most of his life and has recently celebrated 10 years' writing And Another Thing.