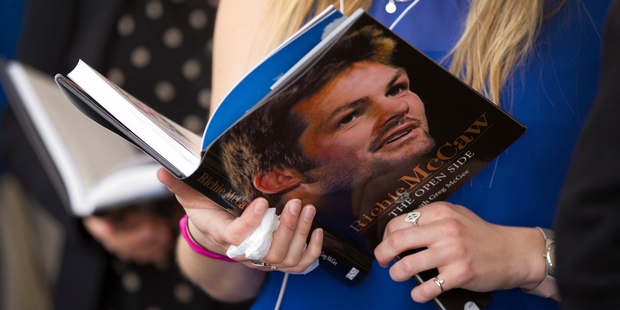 They are the words no man should ever hear from his wife. If Mrs P had said she had spent all our money at Briscoes and we couldn't afford my golf subs I would have understood.
If she'd said she was leaving me and running off with Richie McCaw I would've taken it on the chin.
Actually if she'd said that I probably would've replied: "Richie McCaw! Well done! Can he get me some test tickets?"
But she didn't. She said ... are you sitting down gentlemen? ... "I'm going to get a tradesman in".
Seven words. That was all it took to leave me shocked and stunned (as Billy Connolly would say). And it was all over a tiny piece of wood.
This little bit of timber has been testing me. It requires a delicate cut on an angle that I can't quite figure out. I've been thinking about it for awhile.
Okay, I've been thinking about it for over a year.
I'm confident I'll eventually work it out. Then I'll be able to slot it into place in the room in question and then we won't have the gap that's there now.
According to Mrs P, it's a gap that positively yells: "For the love of God please finish the job."
I think she's being a little over dramatic. I will get round to it. Or rather I planned to until she stabbed me with a thousand daggers by saying she would get someone in.
I retreated to my shed - the shed that I built three years ago and have nearly finished - and sat on the stack of wood I keep inside. You know the one. Every man keeps some wood somewhere. Just in case he needs it.
How could it have come to this, I thought. Getting a tradesman in. There'll be a minimum rate, mark-up on materials, mileage etc, etc.
The swine will probably even be wearing short shorts and a singlet, rippling muscles and all swagger.
Once he gets a foot in the door who knows where it will end, she'll probably want him back to do all those other little jobs I've been meaning to get round to. Maybe she'll even be calling that bloke who gave her his card at the home show, the smooth sod.
For awhile, my mood was sombre as I mowed the lawn.
Why, I wondered, lost in the deafening roar of a Briggs and Stratton engine that needs a service when I can get round to it, had this happened?
Then I thought maybe it's not the same for everyone.
I wondered whether a tradesman's house has a gap that needs a bit of timber or indeed a Mrs Tradesman who is happy with her husband's efforts. Sure, Mr Tradesman might be the bee's knees when it comes to fixing the gutters or repairing a broken window but perhaps she might think it would be nice for a change if he could write her some nice words some time in a card.
Perhaps one day, in a fit of desperation, she might say: "I'm going to get a journalist in."
I know just the bloke.
Minimum rate, mark-up on materials, mileage etc etc. And he doesn't look too bad in short shorts and a singlet either.