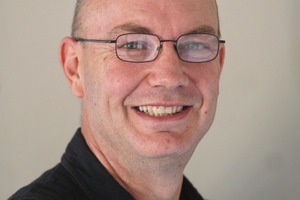 The scream was deafening. I was supposed to be cleaning out the garage when I heard it. I was actually hiding away down there sneakily reading an old magazine.
I'd stumbled across the said mag a week or so earlier and an article about onions caught my eye. Apparently if you take their juice and slop it all over your bald head your hair will grow back.
As someone with a particularly high forehead myself, the said article deserved another read. And that's what I was doing. Until I heard the scream.
Quick as a flash, well as quickly as muscles and tendons that have seen better days will allow, I was off up the stairs to tackle the beast that was obviously doing unspeakable things to Mrs P and Boomerang Child.
I arrived to find war had broken out in the kitchen while lunch was being prepared.
Now, experience tells me mother-and-daughter wars do not need the intervention of a peacekeeping force. Or rather, experience tells me I should keep my nose out of it or I'll get the blame for something and cop it from one or both of them.
My suit of armour was in the wash and it wasn't safe to enter so I watched the battle from the edge of the kitchen tiles.
Anyway, I won't bore you with the details except to say that somewhere amid the cheese, ham, mayo, bread rolls and salad Boomerang Child had found the hiccups.
It seems her health professional mum had considered all the sensible medical solutions available, ruled them out and decided that the old wives' tale about giving her a fright to scare them away was the best option.
So she screamed. Then Boomerang Child screamed. Now they were screaming at each other. Well, maybe I'm exaggerating that bit. Let's just say there was an intense discussion going on over the benefits of such remedies.
It got deeper when Mrs P suggested Boomerang Child drink some water from "the other side" of the glass. Just how you actually do that in a round glass I don't know but while the hiccup sufferer was pondering I leapt in.
"I think you have to drink a glass of water upside down?" I suggested, trying to be helpful.
" ... and if you've ever needed to get rid of a wart you have to bite a real crunchy apple and bury most of it in the garden."
I cringed as I said it. They looked at me as if I was newly arrived from Mars.
I don't know why I said it. It was one of those internal monologue moments. You know the sort of thing where you are away in your own little world, oblivious to what's being said and suddenly you come out with the oddest of observations.
I was obviously talking to myself about old wives' tales and remedies and it just sort of fell out. Before I go further, I should point out I have a history of doing this.
No2 son takes great delight in telling the story of the time we were driving back from Auckland and in a quiet car I suddenly blurted out the phrase: "Don't forget the track suits".
This was something of a surprise to those in the vehicle (myself included; I still have no idea what I must have been thinking) and everyone collapsed in fits of laughter.
Which is exactly what happened in our kitchen as I attempted to explain the various old wives' tales to my dubious girls.
Luckily the laughter put paid to the hiccups and Boomerang Child sidled off to go web surfing while Mrs P offered a sympathetic hug to her obviously tired soulmate.
Perhaps I should go and have a lie down, she suggested. I needn't worry about cleaning out the garage just yet. It was obvious I needed a sleep.
"Anyway," she said. "I've got to go and do the groceries. For some reason we seem to be out of onions."