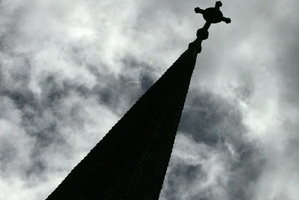 When I was growing up the majority of families living in my street went to church on Sundays. We all knew who the members of which church were.
In my case I attended a religious school for all of my primary school years. I had God during the week and on Sundays as well. We spent a considerable amount of time on our knees. Overkill if you ask me now. But one thing I do know is how to pray and the power of prayer. I believe in it.
Many of the meetings I attend now open and close with a prayer. Sometimes I wonder why we bother. I understand the significance of asking God's help and guidance to those present so we will make the best decisions and for the right reasons.
The prayer should help everyone to focus on working together in a peaceful and supportive way. But some meetings have contentious issues to debate and these meetings can sadly deteriorate into slanging matches quite quickly. I don't think God would want to be part of that environment. He'd be out of there quick smart.
And sometimes I get the feeling those saying the prayers are just going through the motions.
The prayer is spewed out at the rate of a machine gun, with little or no emphasis placed on the words and their meaning. No wonder some meetings collapse. If you can't be sincere in your prayer you won't have a harmonious meeting with good outcomes.
So when the opposite happened, as it did recently, it came as a pleasant surprise and reminder of how things used to be.
I spent some time working with people from our neighbouring Pacific islands. They start and close their meetings with a prayer too. I enjoyed theirs. They moved me. They would start by saying a few words in their own language but their prayers were in English. They spoke slowly, clearly and with feeling.
They spoke in the expectation that God would be present during the meeting and that we would welcome his guiding hand to assist our deliberations.
Everyone present felt the meaning of those words. The difference in the delivery of the prayers, from what I experience now and theirs, was stark. There was no letting God down either. In all our meetings held over nine days we rose to the occasion.
What I usually encounter now is someone present at a meeting asked, but often reluctant to do the job, rattling off a prayer with what appears to me little thought to what they are saying.
I don't know why they don't just "pass" the job. They aren't running off to catch a flight so why not take the time needed to do a good job?
Maybe those who have to listen should speak up and insist the prayer be said with sincerity. If there is the need for prayers at the start and close of meetings then let's get it right. I don't want to listen to some mumbo jumbo being passed off as prayers, especially when I know the opposite can have such a profound effect.
And it's not just the meeting prayer "stand in" who has this problem. I have heard church ministers attempt to break the speed barrier as well. I presume they say the same prayers day after day, year after year, but they at least should take the time to sound as if they mean it. If the people who take on this role at meetings can't do the job justice then perhaps the practice should be scrapped.
Heaven knows what those sitting there, who have never liked the custom anyway, are thinking. I can hazard a good guess.