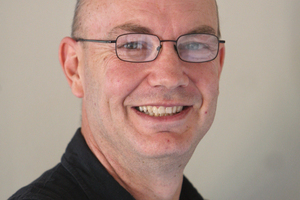 Like every good little boy should, I love my mum.
She possesses a wacky sense of humour and is a walking encyclopaedia when it comes to general knowledge and interesting facts. Take the other day for instance, when I made my obligatory Sunday phone call.
I should point out this was not any normal Sunday. This was my birthday. And it was a big one.
I can't actually bring myself to say it. I am not particularly comfortable with the number, so I'll just say it's apparently the new 40. Got it?
Anyway, mum tells me that if I had never had a haircut from the day I was born, my hair would be something like 1.8m long today.
As I mulled over how that particular comb-over would work in my day to day life, I found myself asking about the day I was born.
I was, mum says, her golden child.
As she rattled off the details of my arrival in this world, I couldn't help but think there were a few similarities with another infant.
Mum worked for a company in the aviation industry which would later be taken over by the Virgin Group. Dad was a panelbeater.
On the day of my arrival, they packed themselves into their Morris 1100 (a donkey of a workhorse, according to my dad) and left the suburb of Kentish Town in London to travel to where a room had been arranged in a hospital. Upon arrival, they learned there was a mix-up and the only room available was an old one they hadn't used for a while.
A porter (Mr Shepherd, mum recalls) helped them set it up. Mum says it was like an old stable.
At the same time as beds etc were being wheeled in, three doctors on a break were emerging from a department store. One had bought some presents for his wife and had enlisted the help of his two mates to cart a package each back to work.
As they boarded a cab they noticed famed celebrity Sean Connery getting into one ahead of them. Like any star-struck fans, they ordered the cabbie to follow.
Amazingly, Mr Connery pulled into the building next to the hospital and the doctors were full of excitement as they ambled into their own workplace.
The sister on duty was having none of their distraction and dispatched them to the makeshift delivery room, where I was promptly born.
So, to recap. A panelbeater and a Virgin employee travelled a long way in a donkey. And three wise men bearing gifts followed a star to a stable where, along with a Shepherd, they witnessed my arrival.
Sound familiar? Spooky, I reckon. It certainly got me thinking. And the coincidences didn't stop there. I mean, earlier in the day, right out of the blue, a voice in my head told me to go and play golf.
Actually it was Mrs P. She said she didn't want me moping around the house all day and to bugger off. So I did.
I turned up at Springfield Golf Club to find a sea of male faces and just like that, out of a crowd of hundreds, I was drawn to play with three angels - Shelley, Jacky and Carol.
Unfortunately, I played rubbish. There was no divine intervention and I lost all my money.
My mum may think I'm the golden child and can do no wrong, but I think I'll need a miracle if I'm going to improve enough to win my money back.