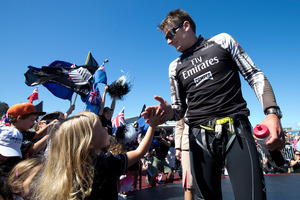 Bizarre is the only way to describe what happened with the America's Cup at the weekend. The next thing which comes to my mind is 'please Emirates Team New Zealand hurry up and get this over with'.
Like many New Zealanders, I was frustrated with the calling off of Saturday's first race due to it taking too long. I also understand why the match officials did what they did.
It is well documented in America's Cup history, especially over the last couple of decades, how it has been riddled with syndicates running to court to dispute anything they thought wasn't fair.
And I have been amazed at how ridiculous some of the goings on have been. Here are just a few that I can remember.
In the 1987 challenger series, Chris Dickson in the "plastic fantastic" boat KZ7 looked on track to win the Louis Vuitton Cup in Australia, all of a sudden in comes big bad American challenger, Dennis Conner, wanting the courts to force the Kiwi team to drill a hole in their boat to make sure they weren't cheating.
His challenge failed but it was enough of a psychological challenge to eventually give Conner in his Stars and Stripes boat enough of an edge to win back the cup.
Then the following year Conner was forced by New Zealand to put the Auld Mug on the line in a direct challenge against the Kiwis. Not to be outsmarted, Conner found a loophole that stated the hull must be 90ft long. He built a lighter and faster catamaran, both hulls equalling 90ft and New Zealand went home with their tail between their legs.
While there was no scullduggery in Saturday's fiasco, the match officials had little choice but to follow the letter of the law. I could easily imagine Oracle Team USA boss Larry Ellison would have been happy to use any sort of loophole created if the race had continued and Team New Zealand had won. There is still a possibility he may challenge the court ruling which saw his team docked two points.
Let's just hope this morning sees Team New Zealand cross the line first and Dean Barker and the boys get a drink out of the Auld Mug.