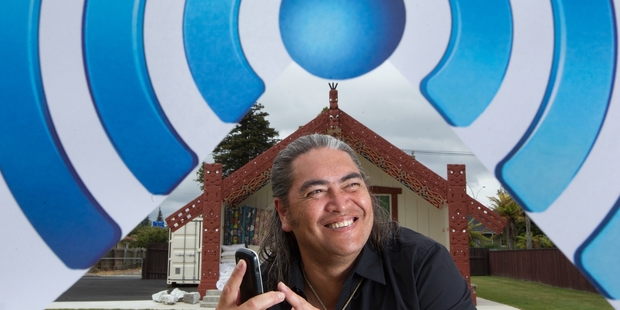 A Rotorua digital business owner is wanting Te Arawa marae to be connected to WiFi internet by next year.
After Dark Design Media director Hemi Bennett co-ordinated a meeting at Te Roro o Te Rangi Marae in Ohinemutu recently gathering Maori who were involved in the Information and Communications Technology (ICT) industry.
Mr Bennett said it was about recognising the strong network of Maori "geeks".
"What I tried to do was organise a celebration of Maori in the ICT sector," Mr Bennett said. "People hardly celebrate their success, they're the invisible heroes, a lot of them do important work fixing people's networks and WiFi.'
Fifteen people attended the meeting which included representatives from Ratana ICT Hub, DMF (Digital Maori Forum), Maori ICT entrepreneurs from Auckland and Potaua Biasiny-Tule of TangataWhenua.com.
Mr Bennett said they also discussed their belief that Maori should have digital sovereignty in the remaining 4G radio spectrum that was being auctioned yesterday.
The allocation of the 700 MHz band of spectrum will allow the building of fourth generation (4G) mobile networks using the spectrum freed up by the switchover to digital television.
"Maori are players in the 4G network we provide ISP (Internet Service Providers) and network supporters. It is a taonga tuku iho (treasure handed down) and we are saying that the Government should give it to Maori as the Waitangi Tribunal recommended."
The idea to connect 42 marae to the internet free was still in its preliminary phase and a trust was to be formed to take lead of the initiative, Mr Bennett said.
"There is a lot of infrastructure and a lot of technical people we would have to work with like Chorus but we have been getting support from the iwi. The topography and geography in Rotorua wouldn't be suitable for broadband as you couldn't put the cables anywhere near Ohinemutu because of the geothermal activity. That's why we're suggesting WiFi and perhaps put a couple of towers on Ngongotaha.
Mr Bennett said connecting marae is about Maori having sustainability for the next generation and he was looking forward to what the future held for this city.
"I think Rotorua is the original Silicon Valley, it's the next place for science and innovation, we have great innovators and great exporters," he said.