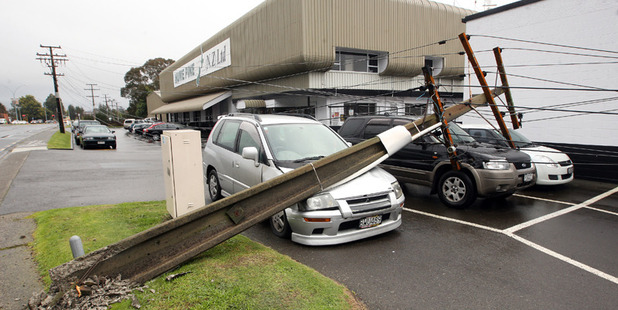 4.25pm: Bay of Plenty police have advised that Te Ngae Rd heading east is down to one lane.
This is to enable the repair of power lines damaged in a crash this morning.
Police also advise there is heavy congestion on the road from Sala St to Fenton St.
Meanwhile, Rotorua Girls' High School will be closed until Monday.

1.47pm: The Rotorua District Council has issued the following update on the heavy rain:
* Earlier intense and heavy rain has now eased. MetService is expecting a few hours relief from heavy rain this afternoon, with more rain expected around 5pm to 6pm. Heavy showers are then expected and thunderstorms possible. Rain could continue tonight until early tomorrow morning.
* Rotorua District Council still has its Emergency Operations Centre operating and the council will continue to monitor conditions through the night.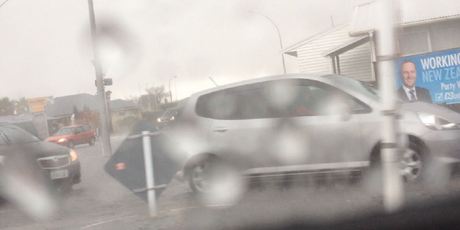 CLICK THE IMAGE FOR MORE PHOTOS
* Mayor Steve Chadwick has visited many parts of the district this morning where there has been flooding and has spoken first-hand to many affected residents. Mrs Chadwick said she had been impressed with the professional response to a complex and developing situation across many parts of Rotorua district, by council staff and Rotorua's Emergency Services. She said local residents had also shown admirable resilience and their cooperation had been much appreciated.
* The heavy rain this morning peaked around 10.30am, resulting in widespread flooding in urban Rotorua and some rural areas. There was substantial surface flooding on many roads. Rain eased around 11.15am.
* Power has been out this morning in Eastern suburbs and Lakes Okareka and Tarawera and there were long traffic delays on Te Ngae Rd. This follows an accident on Te Ngae Road this morning, involving a serious injury. Unison as hoping to have the power supply problem rectified by early afternoon.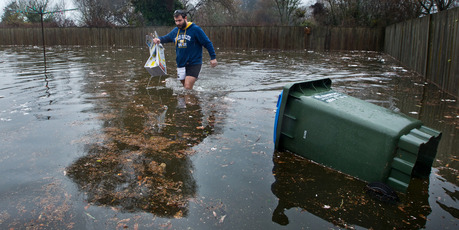 * There were some overflows from the wastewater treatment plant as a result of an inundation of stormwater but this had been rectified by around 11.50am. There were earlier reports of sewer services overflowing in Victoria Street near the Fenton Street end and contractors have been investigating this.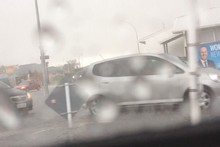 * Schools were advised by Rotorua Police not to close early. It is hoped weather will be reasonable later today at schools' regular closing times, for collecting students.
* Rotorua District Council received reports of five garages being flooded, and four houses requested assistance with sandbagging. NZ Fire Service responded to those incidents.
* NZ Fire Service is advising residents to call 111 if their home becomes in immediate danger of flooding.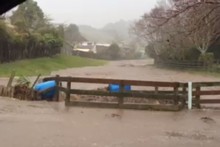 * SH5 between Mitai and the large Ngongotaha roundabout (SH36 intersection) flooded but is currently passable with caution.
* SH36 between Rotorua and Tauranga is down to one lane at Awahou.
* Hamurana Road near Keith Road has traffic management in place to allow vehicles to pass one lane at a time.
* Ford Road, Sunset Road, Victoria Street, Totara Street and York Street have all temporarily closed at varying times until surface flooding subsides.
* Devon Street, which was closed by flooding near the International Stadium, has been cleared and is open again.
* A slip is being attended to on Millar Road at Tarawera and has reduced traffic to one lane, and there is a slip on Tarawera Road between Green Lake Lookout and Meade Road (near Transfer Station).
* Rotorua International Airport is open although two flights were cancelled earlier today due to poor visibility.
* Bay of Plenty Regional Council has been monitoring lake levels, with rises recorded on Lakes Rotorua, Rotoiti and Okareka.
* Utuhina Stream experienced rising water levels at one point coming close to river banks.
Earlier: One lane now open at Awahou on State Highway 36 between Tauranga and Rotorua.
The New Zealand Transport Agency said there was traffic management in the area and drivers were asked to take extreme care.
Wet weather has caused roads to close, a serious crash, power outages and at least one Rotorua school to close.
A passenger in a car that struck a power pole on Te Ngae Rd this morning has suffered serious injuries.
Police said earlier reports were a single car had struck a power pole just before 10am bringing three power poles down outside Placemakers, between Sala St and Hamiora Pl.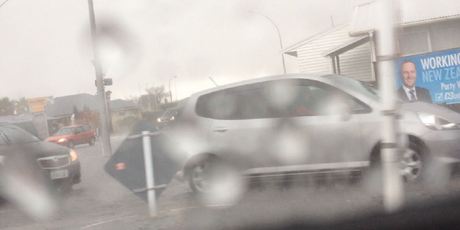 CLICK THE IMAGE FOR MORE PHOTOS
The driver was initially trapped.
All occupants are now out of the vehicle, however one rear-seat passenger is reported to have sustained serious injuries and has been taken to hospital.
Contractors have isolated power to the scene which is being processed by the serious crash unit.
Traffic is down to one lane, eastbound, and there is significant disruption to traffic. Diversions are being arranged.
There is widespread flooding in the area; police are saying this may have contributed to the crash and urge motorists to take extra care and drive to the conditions.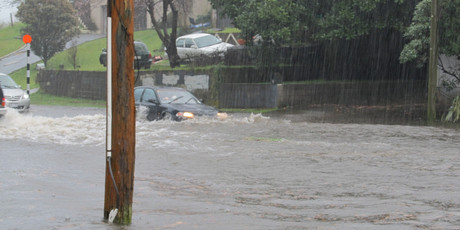 Unison advises they are working on a power outage covering parts of Ngapuna, Lynmore, Okareka and Tarawera and hope to have supply resumed early afternoon.
Rotorua Police advise that there are still traffic restrictions in place on Ngongotaha Road around Oturoa Road and Keith Road. This is being managed by traffic management and motorists can still expect small delays. Police urge motorists to reduce speeds as we have already seen a couple of weather related crashes in the area.
The Rotorua District Council is urging motorists to take extreme care.
At 10.30am today it issued the following statement:
* Rotorua District Council had activated its Emergency Operations Centre at the council Civic Centre to monitor weather events, although no Civil Defence emergency has been declared.
* Rotorua schools are being asked by the police to keep children at school and not send students home early in order to reduce congestion on roads. If there are flooding problems at schools the Fire Service should be contacted.
* A substantial number of urban and rural roads have been closed or restricted. This is a changing situation which council and emergency services are responding to as quickly as they can.
Emergency Services have been stretched this morning dealing with callouts.
* The council is asking residents to stay off roads until the weather improves unless travel is essential. If residents do need to travel they should exercise extreme care at all times.
* As a result of some sewer overflows people should treat any flood water as potentially contaminated, and in particular ensure that children are kept clear of all flooded areas.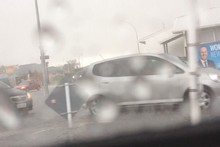 * As today is the last day for rates payments the Rotorua District Council is asking people to not come into the Civic Centre today to make their payments, and has instead extended the payment deadline until the end of the week (Friday 5pm August 22).
State Highway 36 from Tauranga to Ngongotaha was closed at Awahou but has now re-opened to one lane. There is traffic management in the area and drivers are asked to take extreme care.
A detour was earlier in place via Hamurana Rd and State Highway 33 and State Highway 30, past the Rotorua Airport.
Contractors have been monitoring the water levels in the area and will continue to do so throughout the day, as more rain is expected.
DO YOU HAVE ANY WEATHER PHOTOS OR STORIES? Email news@dailypost.co.nz
Motorists are being turned around and people are advised to avoid the area.
Devon St at the stadium end is also completely closed and Devon St at the Old Taupo and Otonga roundabout is partially closed.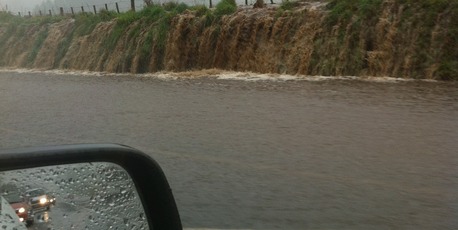 Sunset Primary School principal Niels Rasmussen said he was about to ring the Ministry of Education to close the school.
"Half the roads around the school are closed, I can't get my van through some of the roads to pick kids up so I think the next step will be to close the school."
Rotorua weatherman Brian Holden said there was "quite a downpour" overnight.

"Up until 8am we have had 67.5mm in the last 24 hours, with most of that being overnight, which has doubled our rainfall for the month . . . and it's still bucketing down.

"We can't get out of our street right now in Moncur Dr because of the usual flooding in the dip down by the CT club."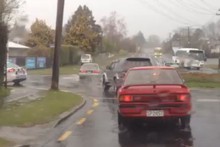 Rotorua resident Renae Baker said residents at a house on Barnard Rd had to be evacuated after a nearby stream broke its banks.
She said she followed a fire engine down Barnard Rd because her 4-year-old was curious but they were quickly told to leave the area because it was too dangerous.
"The house was completely flooded. We got out of there because the water was rising . . . I spoke to a resident who said it was the worst flooding he had seen in the street and he had lived there for years."

One Rotorua Daily Post reader on Facebook said water was quite high by the entrance to the netball courts at Westbrook and the bottom of Gem St. She said the St Andrew's roundabout was also very flooded.
"Pretty bad on all the roads I drove on. Never seen anything like it - not even the day the marathon was cancelled."
Another reader said there was a raised manhole on Ranolf St near Glenholme School and the park on Ward Ave was mostly under water.
Another said there was a big flood at the end of the hill on Aquarius Dr.
"I thought water was going to come through car doors."
Readers are also warning there are several dangerous spots south of Rotorua. A reader said there were water wings in several places and water was running down passing lanes on the hills, forcing traffic to drive very slow.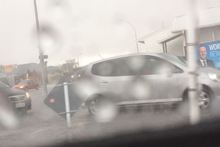 It was reported earlier on social media Ford Rd was closed however, Fordlands Foursquare manager Lucky Vipan Gulati said it was still open, but traffic was slow.
"There were some drainage issues causing water on the road but council people have been to solve it."
The fire service said they've received multiple call outs in the Rotorua region in the last hour to assist with diverting water at flooded properties.
Meanwhile the Rotorua District Council advises that all sports fields are closed today and tonight.
A warning has been issued for SH 29 from Tauranga to Te Poi due to surface flooding on both North and South-bound lanes. SH 29 is open but drivers are advised to watch their following distances and take extra care.
DO YOU HAVE ANY WEATHER PHOTOS OR STORIES? Email news@dailypost.co.nz