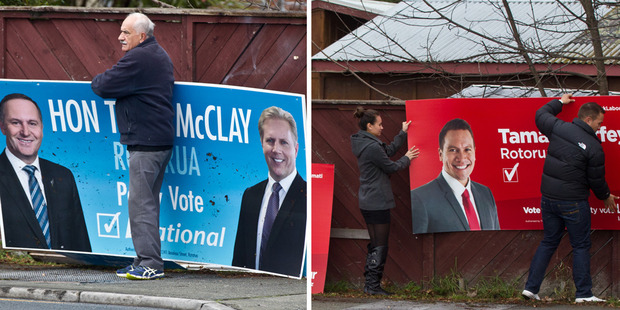 Election signage popped up all over Rotorua on the weekend, marking the official start of general election campaigns around the country.
It seems Rotorua MP Todd McClay was first from the blocks, with many high-profile street corners covered with blue and white signage.
His main rival in the Rotorua electorate - Tamati Coffey - said most of his signs would go up this week, but he had erected some around the district.
In one case, on the corner of Pukuatua St and Old Taupo Rd, Mr McClay's volunteers ran into a problem.
Kayla Hayward, who rents the house with the high-profile fence line, said she agreed about three weeks ago to have one National Party sign on her fence, but arrived home on Sunday to find the fence covered in pictures of Mr McClay and Prime Minister John Key.
"I had the same problem at the last election," Ms Hayward said. "I did feel a little bit bullied to put the signs up, but I think it should be my decision what goes up on my fence."
She said even though she was a Labour supporter she would have been happy to see a range of smaller signs from all parties on the fence.
Yesterday morning she called Mr McClay's office and asked for the signs to be removed, offering the space to Mr Coffey.
"I don't expect any money from anyone, it's fine as long as they ask," she said.
Mr McClay said he did not assume he could place signs on anyone's fence or property without asking the landowner and the resident.
"I had a team of enthusiastic helpers putting up signs very early on Sunday and this seems to be a communication problem.
"We received a call from the resident living there and had the signs removed as soon as possible and hope she wasn't too put out by it. It's a private property and if she was uncomfortable with it we respect that."
Mr McClay said he had received many offers from supporters to put signs up on their properties.
Mr Coffey said he would never place a sign without consent. "We ask the old-fashioned way, just knock on the door."